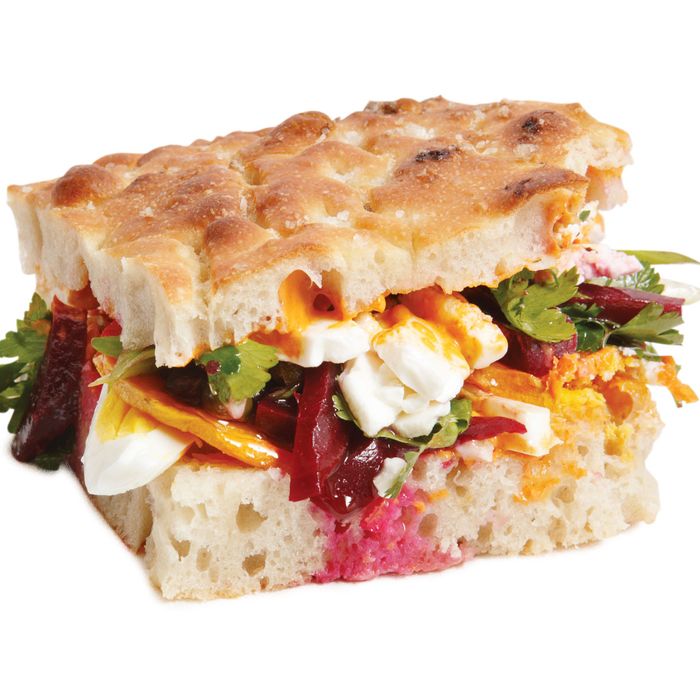 So long, old friend.
Photo: Hannah Whitaker/New York Magazine
That wasn't much of a warning: Today on Instagram, the Williamsburg sandwich shop Saltie announced that it will close at the end of this month. During its eight-year run, the small shop has had an outsize presence in the neighborhood. It's big in both personality and flavor, with an idiosyncratic menu that paired sardines, pickled eggs, and salsa verde; hard-boiled egg, Feta, and pimentón aïoli; and other ingredients for its sandwiches. There were no obvious, meaty ingredients or sandwiches, like bacon or a BLT, but everything was immediately and immensely satisfying. It was cheeky, too, both in its crusty seafaring theme and menu names (horny corn muffin, squash pocket).
It's also, for better or worse, part of the fabric of Williamsburg over the last decade. Like the Commodore and Pies & Thighs, Saltie was an outgrowth of Andrew Tarlow's Williamsburg restaurants. It was opened by Caroline Fidanza, Diner's original chef, and Rebecca Collerton, who also ran the Mr. Curry pop-up and left the business in 2016.