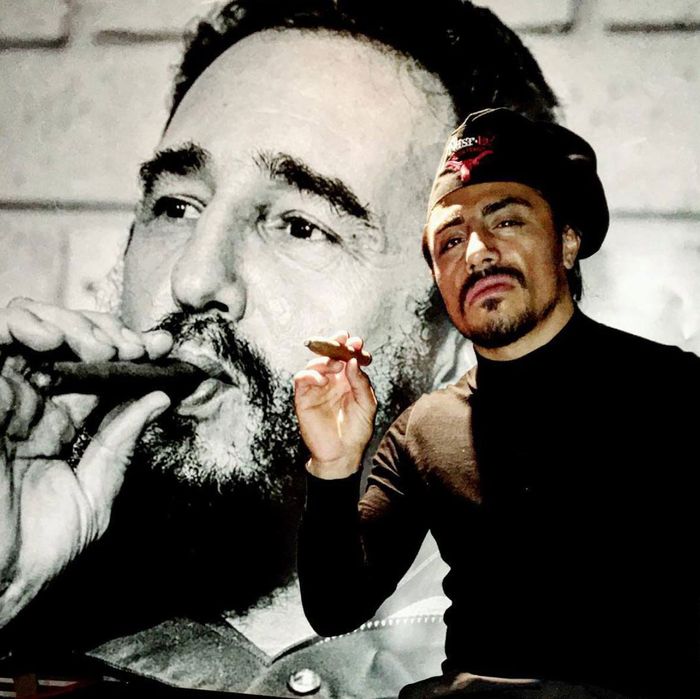 Unfortunately decent resemblance.
Photo: nusr_et/Instagram
The first U.S. restaurant by Nusret Gökçe — you know him as Salt Bae — opened in Miami last month, and that's only brought the living internet meme more attention. Not all of it has been good: Miami residents pumped to have a chef beloved by the internet in their midst started scouring his Instagram, and discovered an old photo of him impersonating Fidel Castro, one of the most hated historical figures in all of Miami. The post, which went up four days after Castro's death about a year ago, shows Gökçe wearing a black hat with his Nusr-Et Steakhouse logo while staring at the camera and smoking a cigar. Behind him is what he's emulating: a black-and-white pic of Castro. He posted a message in Turkish that roughly translated to "They said you started a revolution, too."
The Miami Herald reports that screenshots of that post went viral on Facebook within minutes. The Herald posits that most of the comments were unprintable, but some of the "G-rated" ones include "This is the kiss of death in Miami," "you have to be STUPID to open a restaurant in Miami and Post a picture with Castro," and "I thought you were pretty damn cool until I saw this."
It doesn't seem like Gökçe has issued an official response or explanation yet, but the paper notes that the offending Instagram post dematerialized 20 minutes after a reporter emailed asking about it.