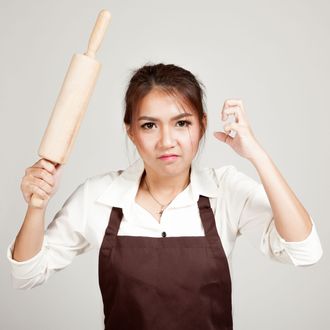 Understandably frustrated.
Photo: Waroot Tangtumsatid/Getty Images/iStockphoto
Here's a reality check for anybody who wants a better grasp of what women working in restaurants are up against: BuzzFeed News has published literally every single sex-harassment claim filed between 1995 and 2016 with the EEOC, the federal agency that enforces workplace discrimination and harassment laws. They're all anonymous, so nobody's privacy has been compromised here — harassers' included — but the data provides a handy tool for comparing harassment over the last two decades across all U.S. industries.
The government turned over 170,000 EEOC claims; far and away, the worst industry is what the Feds classify as "Full-Service Restaurants." According to BuzzFeed's parsing, full-service restaurants saw 10,057 claims filed over that 21-year period — or 1.3 every single day. Include the rest of America's myriad food-related workplaces (fast-food restaurants, bars, buffets, caterers, food trucks, etc.), and the numbers get much, much higher. And these are just the reported ones.
Members of a special EEOC task force formed last year to "reboot workplace harassment prevention efforts" told BuzzFeed that it's sad, but certain workplaces "are just more fertile ground" for misbehavior. In restaurants, where "meathead culture" rules the kitchen and servers can squander their tips by upsetting guests, both co-workers and customers are guilty of a "disproportionate amount" of awful acts.