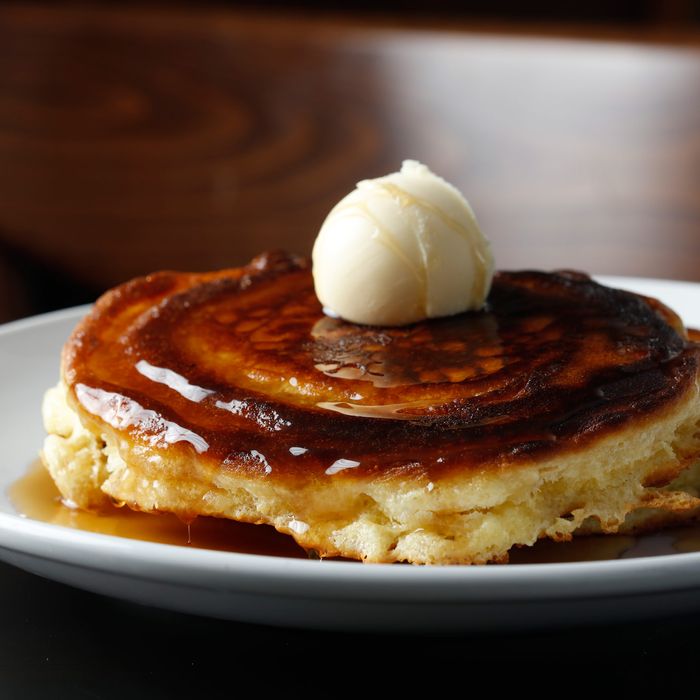 The last word in hotcakes at Chez Ma Tante.
Photo: Melissa Hom
At first glance, nothing about Chez Ma Tante tells you what to expect: not the French name, swiped from a Montreal hot-dog shack (it means "my aunt's house"). Not the location on a sleepy residential Greenpoint block. Not the spare corner space, with its plain white walls and bare dark wood tables. And not the menu, which advertises such humdingers as Caesar salad and pancakes.
But all becomes clear with a bite of bread — She Wolf Bakery miche, a sort of supercharged bruschetta, lavishly garlicked and oiled and charred on the grill to a crisp but chewy-pliant fare-thee-well. A panel of bruschetta experts would rise to their feet and clap their hands in appreciation of this wonder bread, and you'd probably be happy eating it sans accompaniment, washed down with a glass of water from the tap. But the kitchen plops down this superb staff of life in a bowl of kale cooked soft but not mushy, ringed around a creamy reservoir of stracciatella cheese, the whole thing shot through with anchovy and chile pepper. It is bread that aspires to and achieves something greater than itself. As the kind of restaurant that pays serious attention to the smallest details, Chez Ma Tante does the same thing.
Co-chef-owner Aidan O'Neal was born in Vancouver and has done time in the kitchens of Au Pied de Cochon and M. Wells with Hugue Dufour. This might lead you to believe that Chez Ma Tante is a Canadian restaurant. But it isn't so. If anything, the place more closely resembles, in spirit and flavor, two London landmarks: Fergus Henderson's nose-to-tail pioneer, St. John, and the Anglo-Mediterranean River Cafe, the institution that also inspired Café Altro Paradiso, where O'Neal and his chef-partner Jake Leiber both cooked.
If the duo had a mission statement, it would be to make the best versions of classic European-inspired dishes in a stripped-down environment that lets the food speak for itself. As mission statements go, this is hardly revolutionary. But there is something radical, or at least radically simple, about the brunch pancakes: meltingly rich, judiciously syruped, and unusually crisp, practically blackened like a Paul Prudhomme fish fillet on one side and around the edges. An egg-and-cheese sandwich with housemade sausage is everything you want in a breakfast sandwich (except perhaps the slippery mess). And the classic Anglo-Indian dish kedgeree, curried rice mingled with soft-boiled egg and flaked cod, could bring a silent tear of joy to the eye of a homesick Brit. Dishes like these, and picture windows that let in the afternoon light, have made Chez Ma Tante a top-notch brunch destination.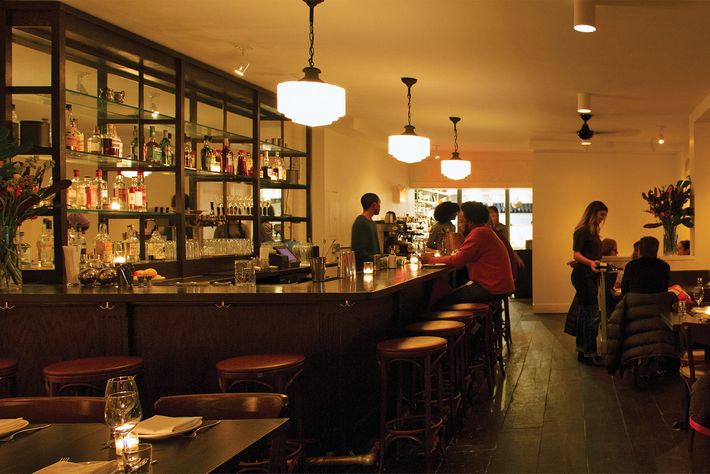 But the restaurant shines at night, too, when you might order a smart riff on a classic cocktail (a spry persimmon Cosmo, recently) and something to munch or slurp alongside: spiced maple walnuts (that's O'Neal's inner Canadian showing), oysters drizzled with parsley mignonette, or, if you're really hungry, a plate of chubby, golden French-fried potatoes served with a garlic-forward aïoli that are good enough to make you think no fry should ever be served any other way. That high-octane aïoli is a recurring motif at Chez Ma Tante, popping up everywhere: in that kedgeree, alongside a wedge of tortilla española, and smeared inside the top-loading bun of the hot dog that nods to the restaurant's namesake. (The frankfurter's on temporary hiatus but should return with the debut of lunch next month.) Great blobs of aïoli also happen to be a very Fergus Hendersonian touch. And well-traveled gastronomes will note further references to St. John in a mandoline-shaved kohlrabi-and-apple salad, and a palate-cleansing apple sorbet served with a shot of vodka (Polish here rather than St. John's Russian, in deference to neighborhood demographics).
In an era when critical praise is often reserved for "interesting" food, there's something bold about celebrating the greatness of timeworn classics, and there's something very appealing about a restaurant that just wants to serve simple, honest, irony-free food like Caesar salad. Chez Ma Tante's version is a master class in the tangy, bright, funky, rich marriage of great anchovies, good breadcrumbs, and soft flakes of Piave cheese. What the menu describes as "pork shoulder" emerges from the kitchen as a sturdy steak marinated in maple syrup, mustard, and chiles. It's rich and chewy, sweet and savory in a way that's reminiscent of Vietnamese lemongrass pork chops and served with a winter-warding heap of stewy lentils plumped in lardo. Tender skate is served "on the bone," which might keep the flesh moist and enhance its flavor but might require a little too much work for the average Greenpoint pes­ca­tar­ian. There's even, for some reason, a falafel plate decked out with hummus and harissa, the chickpea fritters exceptionally crisp and craggy and better than what you'll find at most falafel specialists around town. But why here, you wonder? "Because it's a classic street food in Paris and London," says O'Neal, whose notion of Europe's culinary borders is admirably inclusive.
For dessert, the flourless chocolate cake is an undisguised homage to the River Cafe's Chocolate Nemesis, one of the world's most copied recipes. Here, its deep, dense richness is tempered with olive oil and sea salt, and the dollop of crème fraîche that accompanies every self-respecting Nemesis. Like the restaurant itself, it's a tribute that honors its origins but also an entirely welcome and delectable addition to New York's dining scene.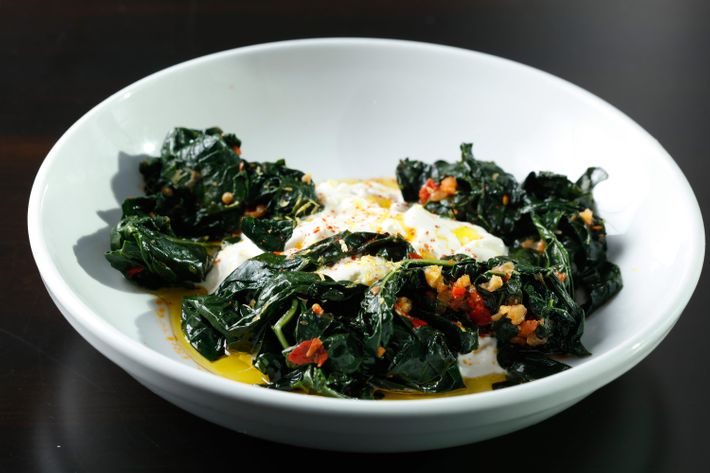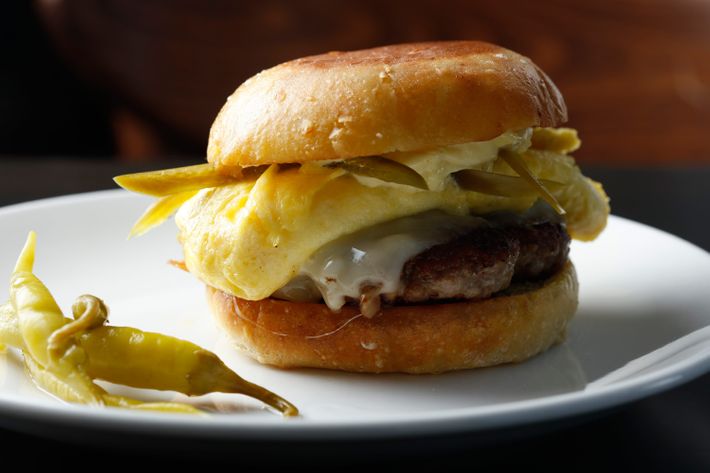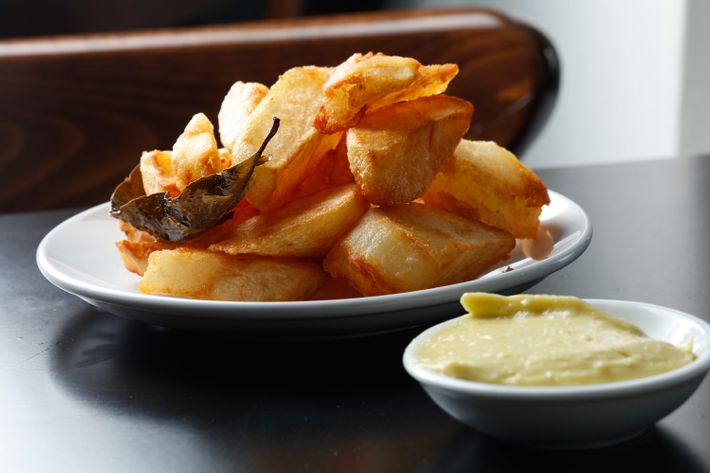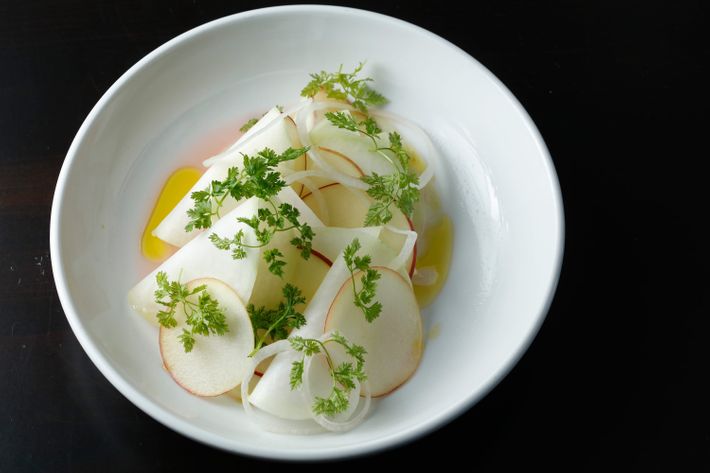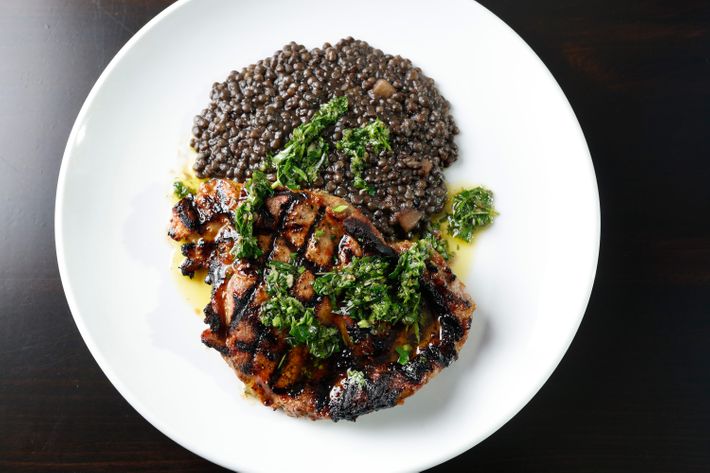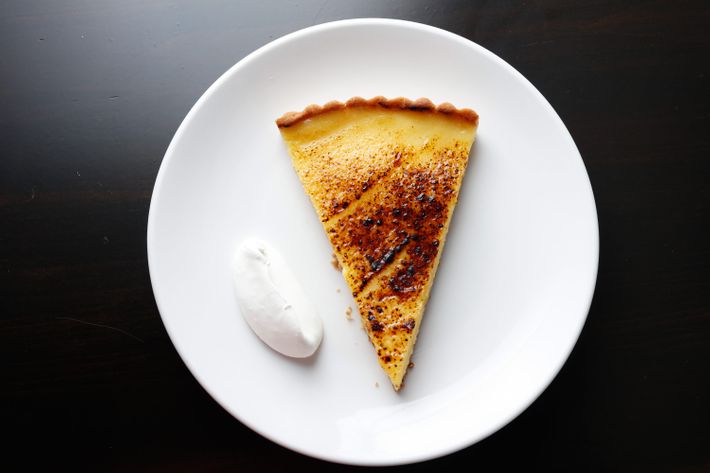 Chez Ma Tante
90 Calyer St., at Franklin St., Greenpoint; 718-389-3606; chezmatantenyc.com
Open: Weekend brunch; dinner Wednesday to Sunday.
Prices: Appetizers, $3 to $16; entrées, $17 to $23.
Ideal Meal: At brunch, pancakes or egg-and-sausage sandwich, chips and aïoli; at dinner, oysters, maple walnuts, Caesar salad, pork shoulder, chocolate cake.
Note: The wine and beer list is short but sweet, with no bottle over $60; $13 cocktails are first-rate.
Scratchpad: Two stars for the simple, delicious food and no-concept concept; one for the friendly service; and one more for a Brooklyn brunch that even Brooklyn-brunch haters will reluctantly admit they like.
*This article appears in the December 25, 2017, issue of New York Magazine.