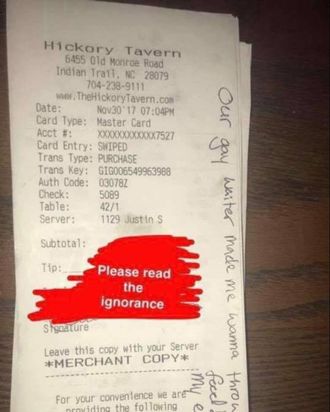 Eesh.
Photo: Lucia Stetson/Facebook
Customers are livid at a restaurant chain — once voted ESPN's second-best sports bar — after it fired a waiter who publicized a homophobic receipt. Hickory Tavern has two dozen locations in three states, but started becoming sports bar non grata in the Charlotte suburbs last weekend after the server, who worked at a location there, posted a pic of a bill annotated with the statements: "Our gay waiter made me wanna throw up my food! Ruined my experience tongt. Will not be back!"
The server posted the photo to Facebook, with a big red blob over the customer's name and the words "Please read the ignorance" superimposed over that. It started getting attention pretty fast — including, eventually, his employer's.
Hickory Tavern told him he'd violated a companywide policy that prohibits employees from posting credit-card receipts online (not that unusual in the industry), and was being fired as a result. The company gave the Charlotte Observer a statement saying, "We strongly condemn the insults directed at one of our team members in remarks left by a patron on their credit card receipt." But explained: "We also value the privacy of our patrons."
The waiter presumably pulled his original post (his name hasn't been released, beyond the "Justin S." on the receipt), but a friend of his reposted the photo on Facebook, in a plea to help find him work, that's now been shared over 2,000 times:
Support for the server continues to surface. "Yes, he made a mistake in posting a receipt online," a Facebook user wrote yesterday, adding that she's "been waited on by this kid many times," and that "Hard working and polite doesn't even begin to cover it. He's my favorite young waiter there!" A former co-worker, meanwhile, admitted that he'd have done much worse to the note-writer: "Used to work there and sure as hell would've poured some classic HT sweet tea over that customers not so sweet head."
Hickory Tavern tells the Observer that it tried offering the server his job back after realizing he "may not have understood" the company's confidentiality policy, but sounds like he declined.