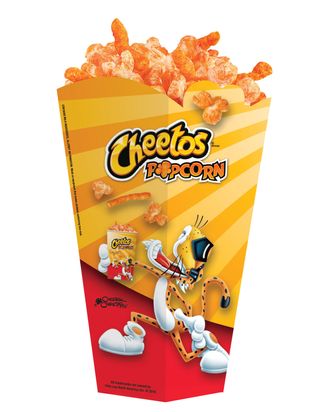 A more ultimate stoner mash-up has never been invented.
Photo: Frito-Lay
Try not to wear your Chewbacca cosplay outfit to tonight's Star Wars: The Last Jedi screening. That will make eating the Cheetos popcorn much, much messier. In a mash-up that makes you wonder why it took so long, Frito-Lay and Regal Cinemas are introducing the world's highest form of concession this weekend at theaters, a bag of popcorn that is also a bag of Cheetos.
The snack has technically been available at sports arenas before, but moviegoers get it for the first time starting today. You can buy it in 32-ounce-size bags at Regal theaters nationwide, although certain markets got an early tease:
To be clear about the monster they've created here, this isn't just popcorn dusted with orange cheese powder. It's partly that, but these heart-mutinying bags also have actual pieces of Cheetos mixed in. (The official description, per Frito-Lay, is an item that features "light, airy Regal popcorn that has been puffed to perfection and paired with warm, cheesy Cheetos flavor and Crunchy Cheetos.")
It's not good for you, not even a little bit. But face it: You were already planning to eat a bagful of popcorn drenched in that butter-flavored oil, so this is hardly going to kill you. Just bring a full canister of wet wipes.