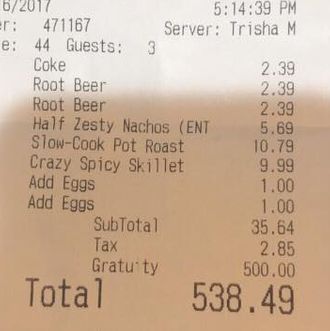 One group's $500 tip, left for a server in Maine.
Surprise: Here's some news to make you feel all warm and fuzzy about the world, even if only for a fleeting moment. In the past few days, Americans have really been getting into the true holiday spirit — they're leaving servers generous tips and heartfelt messages of thanks, as opposed to wielding gratuity as a way to bash hardworking individuals who might have different politics.
At a diner near Seattle this weekend, a regular customer left a tip that mathematically works out to about 7,600 percent: Dwayne Clark, a local businessman ABC News says has been eating at Brief Encounter for eight years, left the restaurant's 12-person staff $3,000 on his $39 meal. He also scribbled a note on the back of his receipt that said, "You guys do a great job! When I was 7, I washed dishes and my mom cooked in a diner like this, we were dirt poor and didn't have money for Christmas. Hopefully, this will help all of you have a better Christmas."
Then apparently in Michigan yesterday, a guy at a Kalamazoo restaurant gave a server an envelope in which he and nine friends had each stuffed $100. He claims his group asked for the "orneriest waitress you have," which the Theo & Stacy's host apparently refused to do: She gave them Mary Lively, a 24-year veteran employee they quickly deemed "kind" and "the right person for this." She was presented with the $1,000 envelope — the "biggest tip" of her life — at the conclusion of their $70 meal, and she says it'll go toward her car payment and gift-buying. Per Detroit's CBS affiliate, they picked that restaurant because it's "always doing wonderful things for the community," like feeding the homeless at Thanksgiving and Christmas, so "why not do something for their staff."
Meanwhile, CBS News brings the story of single mom Trisha Murphy, over in Ellsworth, Maine. Murphy is a Denny's waitress who works 50-to-60-hour weeks on top of 18 hours of nursing school each week. She's got Christmas coming up for her four kids — ages 6, 9, 11, and 13 — and also has to pay $735 to get back her towed car.
On Saturday, her holiday situation improved vastly after getting a table of three men. They kept inquiring about her Christmas plans, and one of them insisted, semi-creepily, that he'd "come to play Santa." But once Murphy cashed them out, she discovered a $500 tip on their $38 check.
"I don't know this man's name," she wrote in a Facebook post that's been shared over a thousand times, "but I hope he realizes that he literally saved Christmas for my children and I! Good people do still exist."