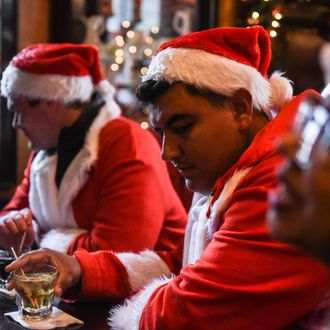 Time to hang the Santa hat, guys.
Photo: Stephanie Keith/Getty Images
New Yorkers, try to bury your drunk-Santa Schadenfreude: Midtown got buried in OppoSuits and projectile vomit last weekend, but those shenanigans didn't hold a mistletoe-scented candle to the horrors that occurred just across the Hudson this year. While Manhattan's annual binge-a-thon seems to have resulted in merely one arrest, here's what 5,000 SantaCon-goers inflicted upon Hoboken residents this weekend during their 17 hours of merrymaking:
Hoboken police arrested 17 people during Saturday's SantaCon … The city flooded the streets with officers to handle the thousands of revelers clad in red suits.

…

Most of the arrests were for assault and disorderly conduct. A 22-year-old woman, who was arrested after being involved in a fight, also punched an officer in the face. She is now facing an aggravated assault charge.

One person also spat in an officer's face while being processed.
Hoboken police chief Ken Ferrante was so mortified by the lunacy that he livetweeted the arrests, posting updates, including most of the arrests, almost in real time. Here's just a sampling:
Police eventually got the annual excuse for public intoxication under control, but Ferrante was just getting warmed up on Twitter. He spent the next few hours posting important factoids about Hoboken SantaCon 2017 — like that it was HPD's single craziest day in the last five years — even picking up on Sunday where he'd left off the night before: