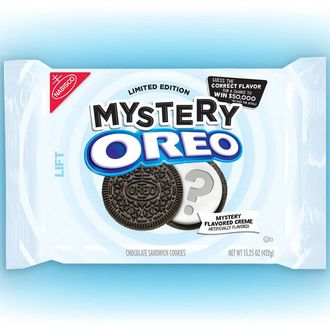 The possibilities were limitless.
Photo: Courtesy of Oreo
Rule No. 1 of mystery flavors is that they should contain, you know, at least a kernel of said mystery. For instance, Airheads' White Mystery bars could be anything, and that's probably for the best. But Oreo's recent Mystery Flavor, which was worth a lot of money to six lucky people who correctly guessed its provenance, is exactly what everybody said it was all along: standard black wafers with crème that tastes like Fruity Pebbles cereal.
Nabisco described it as a major riddle when packs came out earlier this fall. Almost immediately, though, taste-testers out there declared the flavor pretty unambiguous. A quick sampling from back in October:
• Food & Wine: "The results were almost unanimously 'Fruity Pebbles.'"
• Refinery29: "Our noses were hit with a sweet scent we associate with a bowl of Froot Loops or Fruity Pebbles."
• Today show: "Many people think it tastes like some kind of fruit-flavored cereal, à la Fruity Pebbles or Fruit Loops."
• The Daily Meal: "Fruity Pebbles and Fruit Loops were among the most popular answers."
• Delish: "Fruity Pebbles was the unanimous decision."
In a Facebook message, Oreo now says, "Bingo!"
We've already been subjected to Swedish Fish and Peeps Oreos. Chocolate Peanut Butter Pie, Rocky Road Trip, and Pistachio thins are apparently on their way, too. Committed crème-ophiles will also remember so-called Fruity Crisp Oreos — they debuted last summer, but got a somewhat lukewarm reception, perhaps because, like the Bunch O' Cinnamon Squares on the cereal aisle's bottom shelf, Nabisco's mimicry was a little too on the nose. Oreos with packaging that acknowledges Hanna-Barbera's Flintstones copyright fix that.