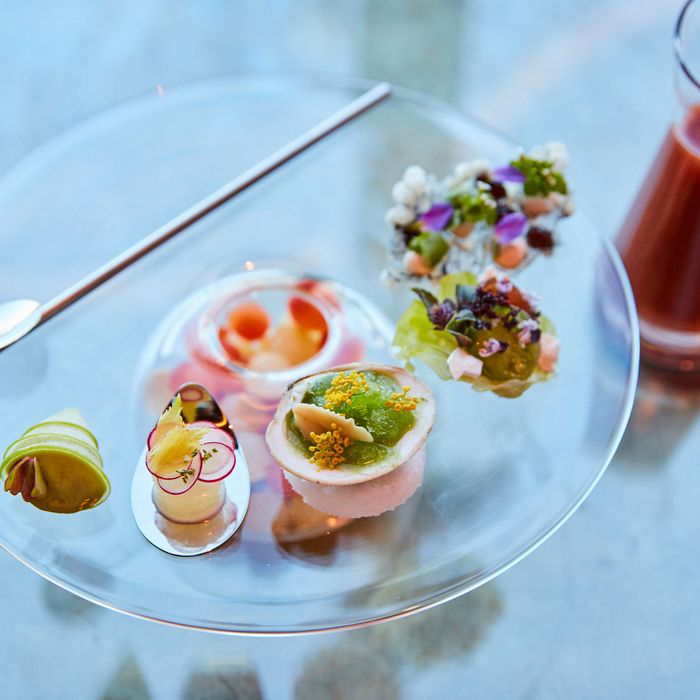 The Aviary's Bloody Mary.
Photo: Miachel Breton
"Don't worry, most people abandon it halfway through," the impeccably mannered waitperson said with a practiced little bow. My guests and I were peering at Grant Achatz's towering "Giant Crispy Pork Skin," a creation that, like the Redwoods or the Taj Mahal, still manages to look impressive in real life, no matter how many times you've scrolled absently past it on your Instagram feed. The great pork flap is pulled and twisted into giant rippling shapes during the deep-frying process at Achatz's new bar-restaurant the Aviary and then propped, like a great decorative palm frond, in a square glass vase. It's served with a cool, creamy mix of corn pudding spiced with chile oil and coriander, and although it tastes good, the real fun, aside from mindlessly filling your own Instagram feed, and the snapping, tree-bark sound the pork makes when you break it off, is the spectacle of the thing.
Achatz has long been famous for dreaming up these kinds of edible (and drinkable) conjuring tricks, of course, at his Chicago flagship, Alinea, and its sister operations Next, the Aviary, and the Office. But like a traveling carnival, or a slow-moving Old Masters art show, the new Aviary production, which opened not long ago in the skyscraper lobby of the Mandarin Oriental hotel above Columbus Circle, represents the first time jaded New Yorkers get to experience his particular vision for themselves. Like the original Aviary, this one is billed as a bar, although there are plenty of snacks to graze on besides Goliath-size pork rinds, and the only bar in sight is the one at the back of the room where troupes of mixologists, herbalogists, and ice aficionados concoct antically named libations ("Wake and Bake," "Heart of Stone"), many of which are served bubbling in strange, medicinal glassware, billowing clouds of frozen liquid smoke.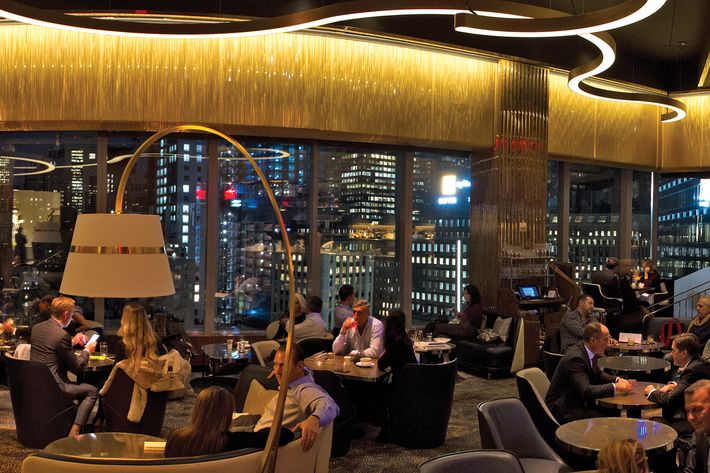 New Yorkers pride themselves on being immune to this kind of trickery, of course, and the dreaded term molecular gastronomy has been out of fashion in this expedient, meat-and-potatoes town for years, if it was ever fashionable at all. So it pains me a little to admit that, after what remained of our mega-chicharrón was whisked away, I enjoyed sipping the strange, mango-colored margarita creation paired with it, which featured two rust-colored ice cubes that released the essence of blood orange and poblano peppers into the drink as they melted. Another grizzled boozer at the table ordered the house version of that Mexican libation the michelada, which was touched, weirdly but not unpleasantly, with coriander, a smoky Japanese whiskey, and hints of soy. "Who's pouring this kind of thing down at your local bar?" he asked as he took one happy sip, then another. "The answer is nobody."
Certainly nobody around town serves treacle-sweet rye-coffee-and-orange-vermouth concoctions hoisted to the table in an inflated plastic "pillow" filled with a smoky, everything-bagel perfume. Nobody serves gin-and-tonics reimagined to look like the contents of a gently defrosting green lava lamp (I have dim memories of enjoying mine), or deconstructed $38 Bloody Marys, the contents of which are laid out on a round glass tray (the highlight being a curled tapioca crisp flavored with Worcestershire). "I like the novelty of this, but my critical faculties are now somewhat impaired," declared one of my addled guests, as our little magic show concluded with an homage to New Year's in New York, called "In the Rocks," which involved a tot of Champagne, followed by the breaking of a booze-filled ball of ice (containing a Scotch-and-green-Sichuan-pepper-spiked Old Fashioned) into the bottom of a frosty glass.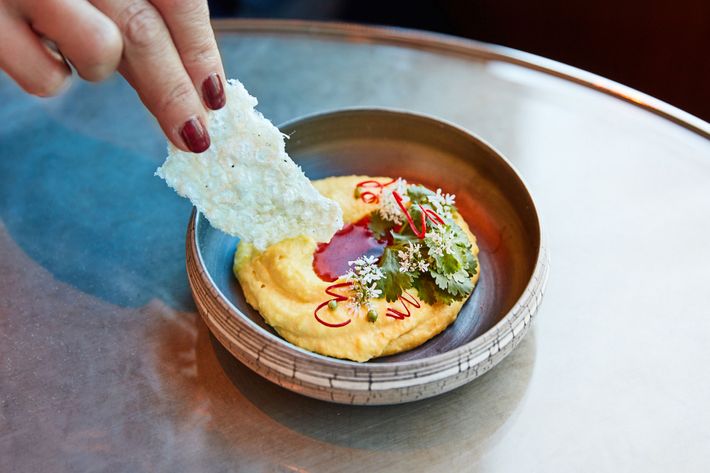 These entertaining creations tend to be uniformly sweet, and they have a way of blending into each other, especially if you click one of the more pricey "ticket" options (eight courses for $215 being the priciest) on the online ticket site Tock. The bar-snack options follow an equally haphazard progression, although there were many things I'd be happy to order again, including a kind of supercharged (and also weirdly sweet) version of the Japanese octopus street snack takoyaki and a single shrimp, seized in a delicately crunchy tempura batter, which we dipped into an aïoli whipped with spicy togarashi powder. The lustrous, flower-decked pork-belly curry is a good match for the many fruity drinks on the list, and if you want a taste of what the shouting has been about at Alinea all these years, call for the famous soup-dumpling-style "Black Truffle Explosion," which packs a layered, umami punch far beyond its delicate tablespoon size.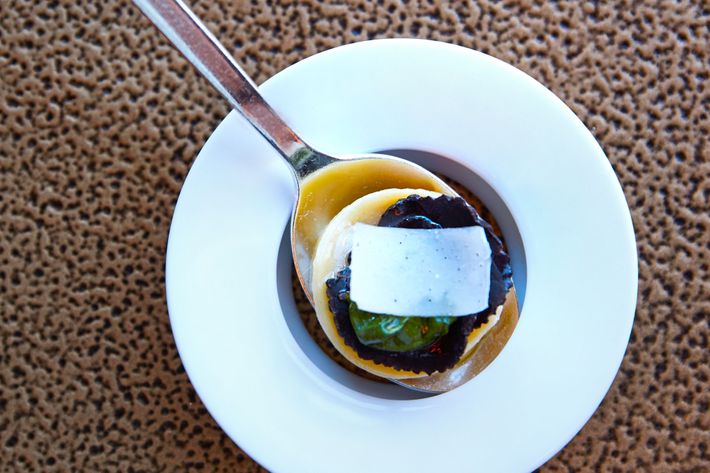 Not that this is the same thing as drinking (and dining) back in Achatz's Chicago headquarters, of course. The view from the top of the Mandarin has its pleasures, but the limitations in lighting, noise, and traffic flow make it feel a lot like you're experiencing these elaborate culinary tricks in, well, a hotel lobby. Regular guests of the hotel may also end up wishing that in terms of space and everyday access, the New York branch of Achatz's speakeasy bar the Office, which opened months ago in a much smaller, darkened space next door, was flipped with this endlessly running performance, especially if they're looking for a place to relax over a beer, say, and a helping of Buffalo wings. For New Yorkers, however, it's worth getting a ticket, even if the prices are a little extreme, and, like most magic shows, the tricks work best if you see them just once.
The Aviary NYC
80 Columbus Cr., at 60th St.; theaviarynyc.tocktix.com
Open: Lunch, dinner, and drinks daily.
Prices: Drinks, $12 to $38; small plates, $11 to $29.
Ideal Meal: Giant Crispy Pork Skin, tempura Hawaiian shrimp and/or pork-belly curry, Black Truffle Explosion. Instead of dessert, save your calories (and cash) for drinks like the Bloody Mary, Margarita-ish, and Heart of Stone.
Note: As always at the Mandarin, tables by the window are best. The Aviary will soon be open for breakfast.
Scratchpad: One star each for the best of the inventive food and drink and another for the Office next door. Minus a star for the prices and the space.
*This article appears in the December 11, 2017, issue of New York Magazine.