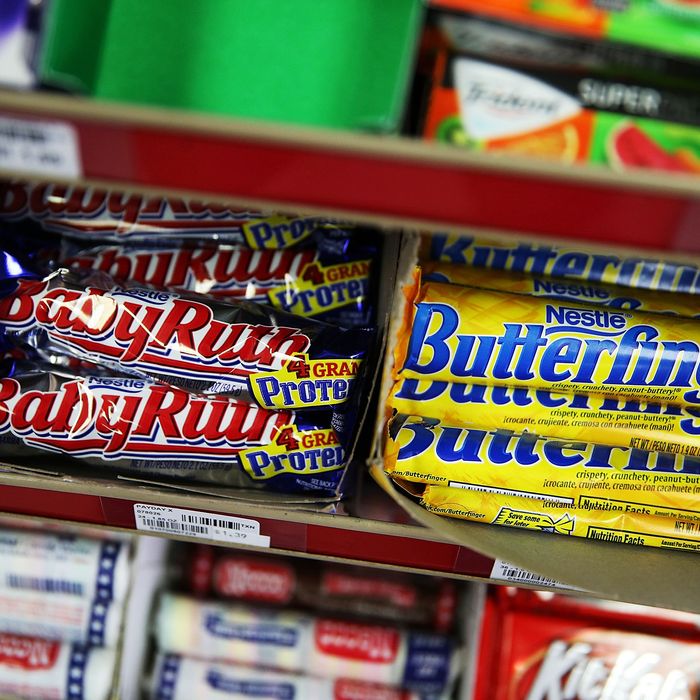 Headed for the collectors' bin.
Photo: Justin Sullivan/Getty Images
Nestlé is breaking things off with chocolate: The Butterfinger, Baby Ruth, and Crunch bar-maker says today that it's done trying to sell candy bars to health-conscious American consumers. So, up for sale: the entire U.S. division of literally the first thing you associate with the world's largest food company.
The food conglomerate assures Bloomberg News that the bidding war is already "robust," and that it expects to have settled on a buyer in the first few months of 2018. This summer, Nestlé teased that it was maybe considering divesting from the industry it pioneered (Henri Nestlé created the first milk-chocolate bar, with help from a confectioner neighbor, in 1875). A rep tells Bloomberg that the decision to pull the lever comes after a months-long "strategic review." The expectation is that the division could get Nestlé anywhere from $1 billion to $3 billion.
Americans have been shrugging at chocolate for a while, but the repercussions are becoming increasingly dire for the candymakers. Nestlé's rivals have started investing in snack bars and granola in an effort to, in good conscience, be able to call themselves "a wellness brand." Just this week, Hershey announced that it's dropping a cool $1.6 billion on Amplify, a company you've never heard of, but that makes the SkinnyPop brand of popcorn.