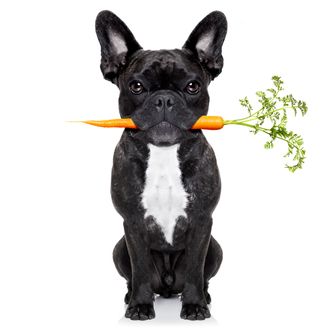 "I brought back your fetch stick."
Photo: Javier Brosch/Getty Images/iStockphoto
Los Angeles's shelter dogs could soon be eating plants for dinner if an animal-rights group, which oddly enough includes Moby and lawyer Lisa Bloom, get its way. With the help of an L.A. Animal Services commissioner, they've proposed making the shelter system America's first that would feed canines an exclusively vegan diet.
Weaning 33,000 homeless dogs off of meat-by-product kibble is understating the supporters' end goal a little bit — apparently, it's to turn L.A.'s canine population into "the vanguard" of a new "meat-free movement." Here's Moby explaining it to city officials: "If we adopt this, it's one more thing that proves to the world that Los Angeles really is the progressive capital."
The proposal was written up by commissioner and prominent Hollywood screenwriter Roger Wolfson. He claims that making dogs go vegan "eliminate[s]" many of their health problems, but that this particular dietary change is as much about the environmental cost of producing meat and the evils of feeding animals other animals. "We have to embrace the fact that the raising and killing of animals for food purposes must only be done if we have absolutely no other choice," he reportedly said at a recent meeting. In conclusion, Wolfson said: "This is about the long-term survival of every man, woman, and child in this room, and all of the people in our lives."
L.A.'s chief veterinarian "was not convinced," according to the Washington Post. He recommended rejecting the proposal, writing in a report that it would deprive pups of protein, calcium, and other nutrients they need. He adds that he's talked to leading veterinarians all over the country about this, and "[n]one endorsed vegan dog diets." Commissioners could decide this week whether or not to make the proposed change.