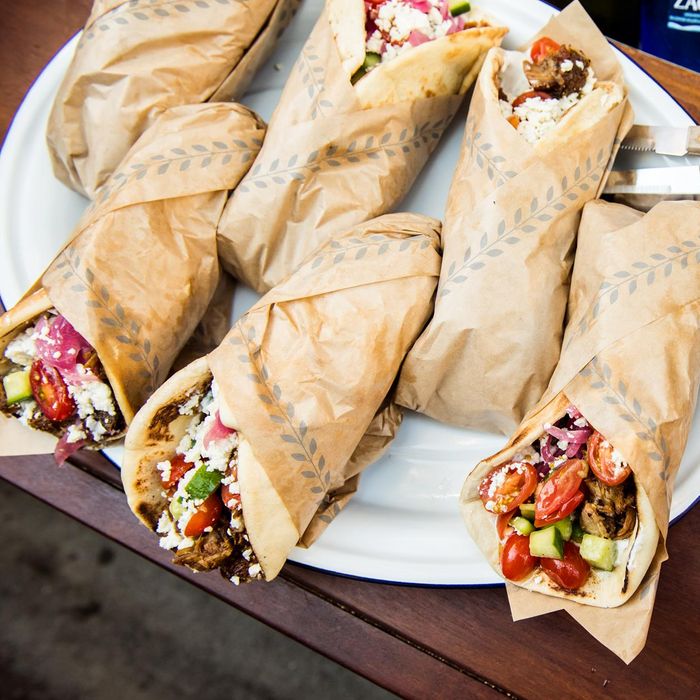 A selection of Souvla's gyros.
Photo: Kassie Borreson/Courtesy of Souvla
A three-location fast-casual gyro chain in San Francisco, called Souvla, has a high-profile fan: Michelle Obama. In fact, she loves this place so much that she ordered it for a recent plane ride back to D.C., then afterwards wrote Souvla's staff a very nice letter saying how much the food improved her five-hour flight.
Now, granted, Obama is a dining connoisseur with few equals. (On past Bay Area trips, she's eaten private meals with Barack prepared by Alice Waters and Quince's Michael Tusk.) But Souvla's Greek fries and lamb leg must've really called her name the day of that flight, because staff tell Eater San Francisco that her crew came in and ordered "pretty much everything on the menu," which includes the spit-fired meat sandwiches, salads and sides, and frozen yogurt.
Here's the thank-you letter she sent last week, shared yesterday by Souvla, calling the in-flight meal "phenomenal," and adding it "made our long flight home so much more enjoyable":
She also sent Souvla's founder, Charles Bililies, a separate (albeit generic) note in order to thank him for his support, and for saving her from having to eat at yet another Gordon Biersch at SFO.