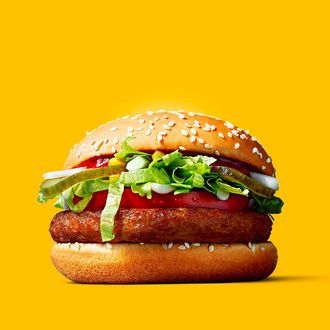 Reviewers have called it a "resounding success."
Photo: McDonalds/Instagram
The unlikely addition of a PETA-approved sandwich under the Golden Arches is turning into a brilliant play by the world's largest beef-buyer. The burger — obligatorily christened the McVegan — debuted in an extremely limited capacity this fall. (At five locations in a small Finnish city of 225,000 for seven weeks.) But overall, Nordic meat-abstainers and the just plain curious who saw the ads were "overwhelmingly positive" about the sandwich they got. "The test in Finland blew all the expectations out of the water," a rep tells Business Insider. So now the McVegan is coming back for good. McDonald's says it will return as a permanent Finnish menu item starting December 28.
To develop the soy-based patty, the chain partnered with a Swedish vegan food-maker called Anamma. They reportedly foisted more than 100 different recipes on taste-testing panels before narrowing it down to one — a low-priced, neutral-tasting burger with classic accoutrements (lettuce, onion, tomato, pickles, mustard, ketchup, and an eggless "McFeast" sauce).
Meatless options abound in northern Europe right now, but it'd be a lie to pretend that McDonald's isn't also assessing the McVegan's odds among all of its younger customers. Only one in five millennials has ever tried (or admits to trying) a Big Mac before, meaning McDonald's has to update. McVegan's reach also expands further on December 28 by invading next-door neighbor Sweden, a nation where one in ten citizens has reportedly gone meat-free.
The chain's Swedish press rep was "reluctant to speculate" on where McVegans might gravitate next, saying they can't predict decisions other countries will make about meat. But probably worth noting, McDonald's is certainly aware that the 6 percent of Americans who now claim to be vegan represents a sixfold jump since 2014.