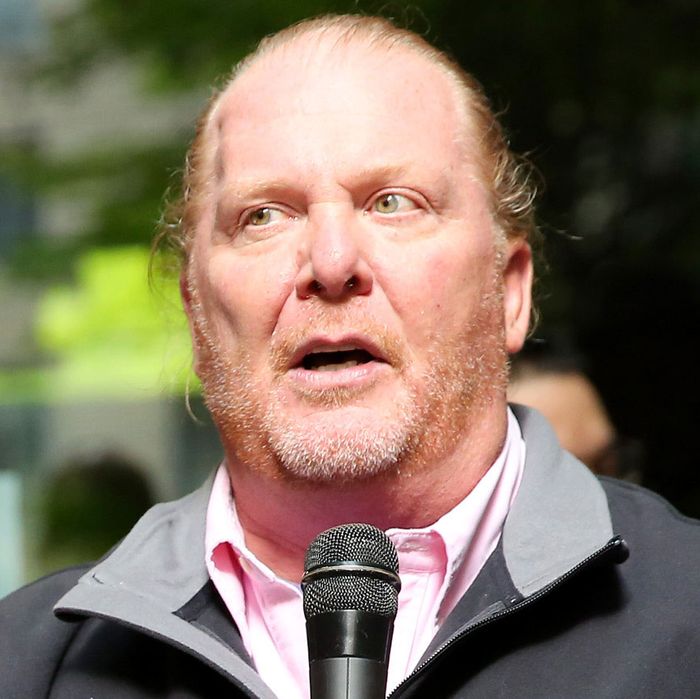 It's unclear who his replacement might be.
Photo: Monica Schipper/Getty Images for NYCWFF
It was pretty clear that this was coming, but ABC has officially fired Mario Batali from his Emmy-winning daytime cooking show The Chew. The network launched a several-days-long investigation into potential misconduct by the co-host while on the show; nothing surfaced, but that's sort of beside the point, ABC says.
"Upon completing its review into the allegations made against Mario Batali, ABC has terminated its relationship with him and he will no longer appear on The Chew," the statement reads. "While we remain unaware of any type of inappropriate behavior involving him and anyone affiliated with our show, ABC takes matters like this very seriously as we are committed to a safe work environment and his past behavior violates our standards of conduct."
The firing comes less than a week after Eater published four women's accounts of Batali sexually harassing them at his restaurants and industry events. At least another five have come forward since, and he's been implicated in some awful behavior in the Spotted Pig's third-floor private dining room.
Batali admits that the allegations against him "match up with ways I have acted," and he's apologized. But his multi-million-dollar food empire is crumbling by the day: Within hours of Eater's story going live, Food Network had put its Molto Mario relaunch on hold. Target says it's done with him, and has purged his sauces and cookbooks from stores. News broke yesterday, too, that Walmart is pulling all Batali-related products from its shelves. ("The recent sexual misconduct allegations against Mario Batali are unacceptable," it told Business Insider in a statement. "We're ending our relationship with Batali and will discontinue our business with his brand.") And Eataly — whose U.S. stores Batali co-owns — has removed all traces of him as well, replacing his books and branded products with co-owner Lidia Bastianich's merchandise.