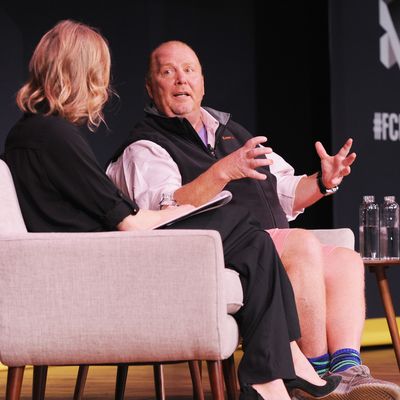 Somewhere in the middle of talking about a workplace "free of fear."
Photo: Craig Barritt/Getty Images
Mario Batali has not denied today's bombshell claims that he sexually harassed at least three employees and one other industry worker, saying the behavior described in Eater's report "does, in fact, match up with ways I have acted." But that's not the tack he took back in October — the same month, coincidentally, that Batali & Bastianich Hospitality Group received the first official misconduct complaint against him.
That month, Batali spoke at the Fast Company Innovation Festival, and appeared in a video about fighting sexual harassment in the workplace. It also featured interviews with Jessica Alba, Master of None's Lena Waithe, and Planned Parenthood president Cecile Richards. Among Batali's particular contributions: "I think the reckoning is coming across the board," he told the audience. "It is a time for women and men to face each other."
"You need a workplace free of fear that harbors an excellent feeling of the potential for collaboration and creativity," he said in the video, posted below (and which has since been updated on Fast Company's official site to remove Batali's involvement).* "And if you wanna keep really talented people around, you need to create an environment for them that harbors excellence and creativity and collaboration."
As one example of the environment he was talking about, Batali offered up his very own Del Posto: "It's not because they have a vagina, it's because they are the smartest people for the job," he said of why the staff is almost all-female. "I hate it when someone calls and says, 'Listen, we want to do a piece on [executive chef] Melissa [Rodriguez] as a great woman chef.' Why don't you fucking do a piece about her being a great chef and we'll talk about her sexuality later?"
Batali has a history of hypocritical moralizing. Just this past September, for instance, he lectured a different audience about ways to advance "a higher quality for life" for the restaurant industry's underpaid workers, although he's settled wage-theft lawsuits for millions.
"People are trying to do the right thing, and it's still slow to come," Batali said during October's panel. "It took a long time for those dinosaurs to go extinct … What you can do is push forward and do the right thing in your own place."
*This post has been updated to clarify the status of Fast Company's official video. Also, that the people in it weren't co-panelists; they did separate interviews that were later edited together.