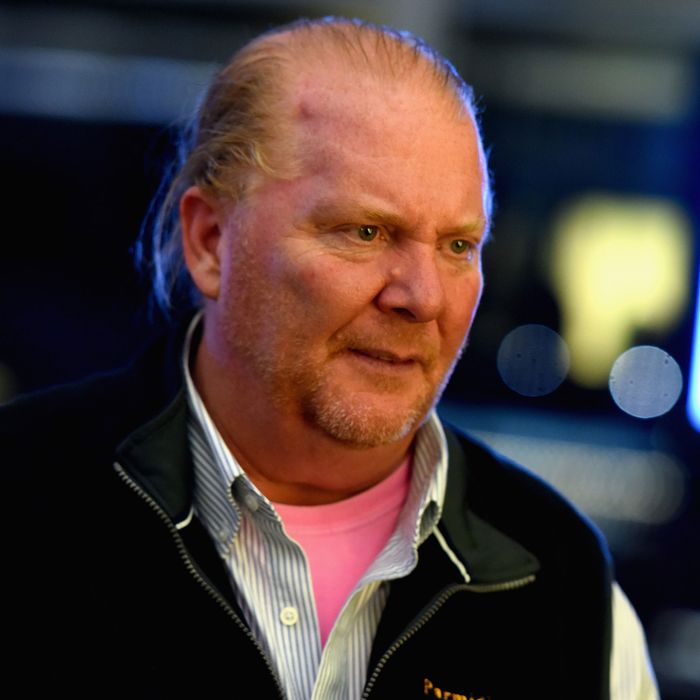 Mario Batali.
Photo: Dave Kotinsky/Getty Images for NYCWFF
Mario Batali, one of the country's most famous chefs and restaurateurs, has stepped away from his restaurant group following allegations of sexual harassment. Four women tell Eater New York stories involving Batali's alleged misconduct that occurred over the course of 20 years, going back to Batali's time at Pó, the West Village restaurant where he first established his reputation.
Three of the women worked for Batali, while a fourth woman, who did not work for Batali, says that she met Batali at an after-party following a wine auction ten years ago. She introduced herself, excited to meet such a figure in her field, but says he started acting creepy, quickly offered to pay her double her salary, and alleges that when wine was spilled on her chest and down her shirt, Batali started rubbing her chest with his bare hands. One former employee alleges that he groped her and on another occasion made her straddle him. Another says that he groped her breasts at an industry party in 2011, after she approached him out of concern when she saw him slumped over a balcony. The fourth woman, who worked at Pó, says that he would grab her from behind and hold her tightly against himself — "like a linebacker, like a disgusting bear hug," she tells Eater — and that he would breathe on her in a way that made her feel like he was smelling her.
Pó's former co-owner Steve Crane says that he was told by multiple staffers about Batali groping, making lewd comments, and snapping bra straps. But he says that when he asked the chef to stop, Batali became more aggressive, and the former Pó employee says that some women asked Crane to stop raising the issue. (A spokesperson tells Eater that Batali denies being confronted by Crane.) Crane confirmed this and the chef who took over after Batali left, and Lee McGrath tells Eater that Crane told him that the waitresses had "been through hell with Mario."
In comments provided to Eater, Batali does not deny the allegations and says that he doesn't need to know the women's identities to know the behavior matches up with his own. An employee reported Batali in October, and B&B says that it was the first formal complaint against him and that he went through training.
As a result of these allegations coming to light, Batali has stepped away from the day-to-day operations of B&B, but is still an owner of his restaurants. An ABC spokesperson also says that they have asked Batali to step away from The Chew, the show he has co-hosted since 2011. Batali's restaurants have faced lawsuits and labor issues in the past. In 2012, B&B settled a tip-skimming lawsuit brought by a Babbo food-runner and server for $5.25 million. Earlier this year, a former Babbo pastry chef sued Batali, Bastianich, related businesses, and several co-workers for wrongful termination after telling supervisors that fellow employees were sexually harassing him for being gay. Lidia Bastianich, Joe's mother who is described as one of "the distinctive forces behind" B&B, was sued in 2011 for $5 million by an employee who alleged that the chef duped her into working as an indentured servant for six years.
This post has been updated with information about lawsuits that Batali and B&B have faced in the past.