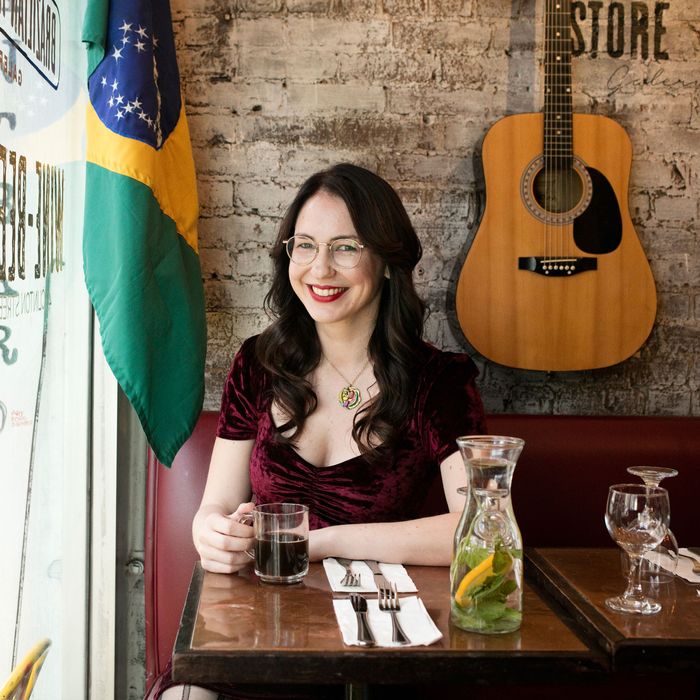 At Galeria.
Photo: Melissa Hom
This year, writer, illustrator, and Instagram phenom Mari Andrew moved to New York and made a full-time commitment to her art (her debut book, Am I There Yet?: The Loop-de-loop, Zigzagging Journey to Adulthood, comes out in March). She says the transition has been "blissful," partly because she now gets to explore so many new restaurants — and this week, she visited Joe's for pizza, the Mermaid Inn for post-breakup wine, and even a Russian dining hall in Brighton Beach. Read all about her adventures in this week's Grub Street Diet.
Thursday, December 14
I woke up at my usual time of 7:30 and had my usual breakfast: a pot of black coffee and tostada con tomate, one of my favorite foods. I was on a trip to Granada, Spain, when I got an autoimmune disease and had to spend a month in the hospital there. Every morning, they served the traditional breakfast of southern Spain: half a baguette with olive oil, crushed tomato, and salt. Fabulous! Plus a clementine! There's no better way to wake up, unless, of course, you are not in a hospital bed.
I grew really attached to this breakfast (Stockholm syndrome?) and still make it most mornings when I'm not rushing out the door. Union Market on the Lower East Side has the best demi-baguettes (chewiness is everything). I buy canned tomatoes in the winter and the sea salt really brings out their flavor, as does good spicy olive oil. I like to eat this while listening to bossa nova.
I walked across Central Park to a yoga class, and forgot that it had snowed and that sneakers let in snow, so my feet were freezing for the whole class, and it was terrible. The only thing I want to eat when it's freezing is pad Thai, so I gobbled a mediocre plate of it at Opai Thai near the yoga studio.
I just moved to New York in August. I've always wanted to move here. Whenever people ask me, 'What brought you to New York?' it's that I really, really wanted to be here. I was waiting to be in a good place, career-wise and friend-wise, because it can be hard when you feel the competition and you're lonely. But now, it's just blissful and wonderful.
In an unprecedented move, I decided to exercise some more that evening — a samba dance class in Union Square. After class, I got my favorite $4 dinner, a slice of Joe's cheese pizza, followed by a glass of Viognier at the Immigrant, where I did some journaling.
Friday, December 15
I ate an everything bagel from Black Seed with a large coffee as I walked to an eyebrow appointment on the Lower East Side. The bagel was toasted impeccably today. Plus it seemed extra chewy and perfectly cream-cheesed. Or maybe everything just tastes better when it's snowing. I love eating while I'm walking; it feels very chic and very New York. Like, "I don't have time to sit down," even though I always have time to sit down.
I worked through the afternoon at home while watching The Goodbye Girl and realized at about 3 p.m. that I was ravenous. I didn't have any functional ingredients in my apartment, so I decided to go to Bareburger for the first time, which I've been avoiding because I know two different couples who broke up there! Seems cursed. But nothing bad happened to me, and I enjoyed a turkey burger with guacamole, mushrooms, and sprouts.
In the evening, I went to the Cup of Jo holiday party in Cobble Hill and had five crudités, four glasses of wine, three cookies, two pizza slices, and a partridge in a pear tree.
Saturday, December 16
As is often the case on Saturdays, I woke up around 8 a.m. craving something indulgent and luxurious, like a pile of French toast. I didn't feel like waiting for my local brunch places to open at 11, so I bought a big cannoli at Milano Market that I happily ate as I walked through a sunny, snow-covered Central Park. I wore appropriate footwear this time, and listened to "The Nutcracker." It was so cinematic. I wish I'd been wearing a more dramatic coat for full effect.
I took a yoga class from my favorite teacher. He's my favorite because he always tells me that I have great energy. This is a lot of pressure to maintain, but it also inspires me to bring my A game to his classes. On my way home from the studio, I felt the need to balance out the cannoli, so I stopped by Sweetgreen for a kale Caesar salad. Boring.
My dinner was far less boring. My friend had her 35th birthday party at National, the Russian dining hall in Brighton Beach. The actual experience felt a bit like a fever dream, or something Stefon from SNL would recommend, or a TLC wedding reality show. I had at least five kinds of fish, my first taste of caviar (thumbs up!), a plate of fried potatoes (thumbs way up!), some various pickled vegetables, and I don't even want to think about how many glasses of Champagne, all while watching men in sequined suits and ladies in ice-skater dresses sing and dance onstage with coordinated lighting. It was spectacular. I danced my face off and fell hard for the Elvis impersonator. At midnight, we shared frosting-heavy slices of a cardamom-and-pistachio cake from Monsoon Bakery in Brooklyn — delicious. I fell asleep on the subway ride home; I blame the plate of potatoes.
Sunday, December 17
I woke up late, for me, around 9:30, and made a pot of coffee. I'm using this Whole Foods Pleasant Morning Buzz blend right now because the name is so cute. I was a barista for about 500 years and I appreciate good coffee, but I usually buy a generic brand for home use. Harder to mess up. Cheaper. I also ate a pack of instant oatmeal in a little green glass dish while reading the New York Times. Good wedding section today.
I went to church, which meant I got a snack of Communion bread dipped in wine midmorning.
I paid a visit to the beautiful Neue Galerie, followed by lunch at Bluestone Lane. It's wonderful there because everyone has Australian accents. Is anything better? I had avocado smash, which is a less basic way of saying avocado toast. Plus a hot chocolate for the road! For you people who don't like your hot chocolate too sweet, this is your place. I am not you people. But it was still good.
The afternoon was a little weird. I took a long walk through the Upper West Side and Harlem, and decided it was time to end things with a guy I'd been seeing. Long walks usually help me clarify things. The juxtaposition of cheerful holiday decorations and my own melancholy was quite striking. I got a quick glass of Vermentino at the Mermaid Inn, and called him from a stranger's Upper West Side porch. I spent a few minutes crying there afterward — much to the confusion of a family coming up the steps with their Christmas tree. Thank heavens I was headed to meet my friend for a weekend happy hour at Maison Pickle, where I had a couple of Negronis and good friend time to soothe my confused, hurting heart. The bartender was super friendly and fun and gave me hope for future love. Perhaps with him!
I got home and made my favorite comfort food: white rice, an over-medium egg, and raw arugula, covered with salt and oil. Followed by a few chocolate-covered pretzels. Those pretzels made me thirsty; I had about ten glasses of water before bed.
Monday, December 18
I had an early meeting at my office in Soho, so I had breakfast at nearby Smile to Go: a black coffee and banana-quinoa muffin. I dream about these damn muffins. The texture is exquisite.
I went home for lunch and repeated my comfort meal: rice, egg, arugula. It's not, like, a dish I'd make for other people, but it's the perfect food for me, and I always look forward to eating it. I'm always so delighted to be eating white rice. I went through a brief phase where I tried to eat just brown rice, or quinoa, or whatever was the grain of the moment, and then thought, Why am I doing this? To be "healthier"? White rice is a million times better! I'm very out of my nebulous "healthy" stage, and now eat intuitively, emotionally, socially, and joyfully.
That evening, I had a holiday dinner with my agent at the gloriously festive Lafayette. We shared a bottle of Sancerre and the gem-lettuce salad, both of which were perfect. I ordered trout as an entrée with braised red cabbage. I love when you get some random vegetable with your meal that steals the show and makes you feel so virtuous for obsessing over a vegetable. Red cabbage, I'll never look at you the same way again.
Tuesday, December 19
I began the day with my tostada, coffee, and bossa-nova routine. I did some tedious administrative work that I'd been putting off, and then drew a couple of illustrations for Instagram on the subjects of trolls, New York, and the allure of a broken man. I ate a piece of peppermint bark that my agent had given me with my Christmas present. Morning is my favorite time to eat chocolate.
The combo of holiday stress and heartache caught up with me, and I booked an emergency session at Aire Ancient Baths, this superluxurious bath extravaganza in Tribeca. It's so indulgent, but the couple of times that I've been before have been so profoundly healing, it's worth it to me. It feels like going to the doctor, but for my spirit. They have Butcher's Daughter juices available in the locker room, and I had one called Golden Hour with cantaloupe, carrot, and orange as I was drying my hair.
I took an Afro-Caribbean dance class in Union Square and picked up Vietnamese food on my way home — some vegetarian vermicelli from Vietnaam 88. It paired well with lime sparkling water.