"Are you comfortable climbing?" asks chef Malcolm Livingston II. We're at the Andrew Freedman Home, a 93-year-old landmark mansion in the Bronx, where Livingston rents kitchen space. He sets aside the tart he's making out of activated charcoal, and suddenly, I'm following his clogs and Nike high socks up a wall-mounted ladder that spans four stories. We land on the mansion's slanted roof; this is where he comes to privately think and strategize. "You've got a view of Yankee Stadium; you've got the projects over there," he says, gesturing like this is his kingdom to conquer. And then, he announces, not just to me but to the entire borough below, "I want to be the Robert De Niro of the Bronx."
Thirty-one-year-old Livingston was born in Pelham Parkway, but has spent the last two years living in Denmark, working one of the most coveted jobs in the entire restaurant industry: pastry chef at René Redzepi's revolutionary Noma. "It's the place you want to be," he says. "Those people are magicians, man! Their work ethic is bar none." But this year, Livingston decided to leave Noma behind and move back home. "The Bronx is next for a revival as a food destination," he says, confidently. He wants to become the next major chef to emerge as an activist for social change and justice.
Livingston first decided that he wanted to be a chef when he was in high school. Well, a chef or a dentist. "It's ironic that now I'm doing pastry, ruining people's teeth," he jokes. He scored an internship at Marcus Samuelsson's Riingo, but then briefly abandoned cooking to work at Foot Locker. "I wanted to give up," he says. "I felt like my voice wasn't being heard in the kitchen." His high-school sweetheart, who's now his wife, encouraged him to persist, and he got a job at Le Cirque. Livingston moved to Per Se after he called the sous-chef every day for a month. His profile raised even further after he became the head pastry chef at wd~50. When the Noma position opened up, outgoing pastry chef Rosio Sanchez recommended him, and he sent his résumé along. Redzepi selected him out of 150 applications and Livingston moved to Copenhagen. "He's a person you trust just by watching him," Redzepi says. "You think Malcolm is quietly working in the corner, but then two weeks later he asks, 'Chef, can I show you something?'"
It was a transformative experience for Livingston. "When I went to Denmark," he says, "I saw what children were eating out there and I was just in awe." In terms of quality of life, Copenhagen is a far cry from the Bronx. The South Bronx has the highest rate of food insecurity in the country, meaning zero or limited access to nutritious foods. It also has the highest rate of obesity in New York City. Children in the Bronx are twice as likely to be hospitalized or die from asthma than other American children. And yet, the Bronx is home to the largest food-distribution center in the world, Hunts Point, which supplies 23,000 restaurateurs and generates $2.3 billion in annual sales. The residents in this same community district report the lowest levels of fruit and vegetable consumption in the city — when polled, 23 percent of people say they ate no fruits and vegetables in the past 24 hours.
"Denmark really is the happiest country in the world," Livingston says. "We had just had a baby. We had health care." He wanted something that would push him outside of his comfort zone. "If I was going to leave Noma, it had to be big." The project that Livingston is working on now is Ghetto Gastro, a five-year-old, four-person "culinary collective" with a mission, he says, to "bring the Bronx to the world, and the world to the Bronx."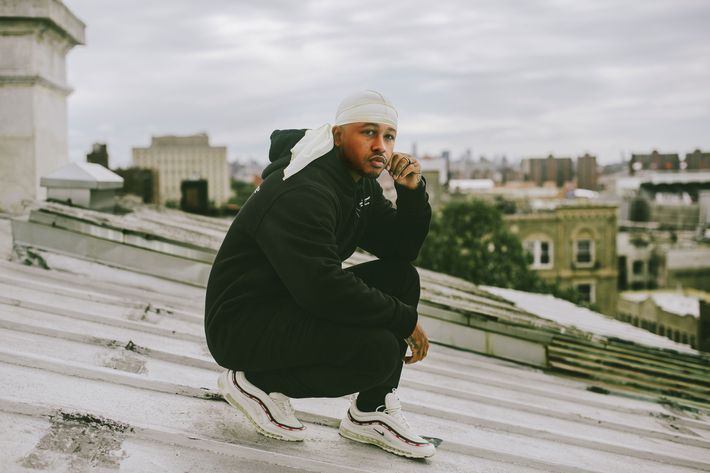 In practical terms, Ghetto Gastro makes money by organizing and executing high-concept events for major brands. The group not only cooks, but also often arranges set design, music, and costuming, charging a base rate of $50,000. (The median household income of Community District 4, where Andrew Freedman is located, is $26,349.) Past projects include converting a 125th Street apartment building into a "Harlem World" experience for Airbnb, cooking jerked bone marrow with Martha Stewart for a Bank of America gig, and making Thanksgiving dinner in Paris for Rick Owens. They don't shy away from civic-mindedness and social commentary. For an event at the Hank Willis Thomas gallery, Ghetto Gastro member Pierre Serrao created an apple-pie dessert inspired by Black Lives Matter, "because the killing of black bodies is as American as apple pie." At Art Basel, they served lines of freeze-dried coconut powder atop plexiglass plates, seeing how guests reacted to thinking it was cocaine.
Ultimately, Livingston says his goals with Ghetto Gastro are altruistic, and that they reinvest their profits into their Bronx communities. "It's Robin Hood theory," he explains. "Steal from the rich and give back to the poor." In the earliest days of Ghetto Gastro, when Livingston still worked for Wylie Dufresne, the group would host house parties called "Hash House Fridays," and he'd take home excess portions of wd~50's hanger-steak tartare and serve it. "The meat would go brown and they'd throw it away; I'd glaze it up and cook it on the barbecue," he says. Lester Walker, another Ghetto Gastro member, worked at Madison Square Garden, and would quietly order extra filet mignon and caviar. "That's what we did in the beginning, and those days put us on the map," Livingston says.
These days, their international trips and elaborate collaborations (he name-checks both Sean Combs and Tony Hawk) do limit Ghetto Gastro's time at home. It's not entirely clear how much food, or jobs, they're giving back to the Bronx, or when exactly that will happen in the future. They're proud that they were able to hire 70 local staffers for that elaborate Airbnb event (to serve just 45 guests), and this summer, they hosted an event at Andrew Freedman to benefit hurricane relief in Puerto Rico. Livingston says he can and will do more. "We still put on for the streets, but not as often as we used to because of travel," he says. "We're always giving back, but I don't think it's enough. If you're working under the Ghetto Gastro umbrella, we want you to be able to afford a high quality of life — a nice house, apartment, car. That's my dream." The goal is less about the number of jobs they can create and more about how they treat their employees. "If you hire a lot of staff, that doesn't mean that you're actually doing anything for them. After working in Denmark, this is what's so important to me: quality of life and family."
Still, their biggest contribution to the Bronx might be serving as global ambassadors, in the way that De Niro helped revitalize Tribeca through his film festival and restaurants. "I think we're definitely branding the Bronx," Livingston says. "We need folks from Lithuania to say, 'I want to come to the Bronx because I heard there's a pizza shop that only makes 20 pies a day.' We don't need more people to say, 'I want to go to Bed-Stuy and check out this great place with a rooftop garden.'"
As you might expect, it hasn't been a simple process to mix a for-profit business with community activism. "We know where we want to be, but what we're trying to do is massive," Livingston adds. Ghetto Gastro member Jon Gray, who first put the group together, is in charge of their business deals. In a recent newsletter, he wrote about this struggle: "I'm conflicted with the capitalist agenda and how it shapes society, but I also know money moves things and that the world needs better rich people." When I asked him about this tension, he says, "I'd rather them give us the money than someone else who's not thinking about what we're thinking about." He sees their profits as a long-term investment in the future of the Bronx. "We want to become a billion-dollar company," he adds. "Being black, a lot of people think our culture is cheap. This isn't cheap."
They have other projects in the works, too. The group filmed a video series for Spotify called The Cook Up, which Livingston describes as "Cribs meet Chopped." They're looking for a building in the Bronx to open their own headquarters, where they can incubate ideas for food concepts and attract New Yorkers far and wide. They want to take waste from restaurants to help bring juice and fresh vegetables — what's lacking in bodegas — to the inner parts of the Bronx. (The name of that project is Strange Fruit, a reference to Billie Holiday's song about lynchings in the South.) They also want to grow a vegetable garden at Andrew Freedman, start a line of all-natural food seasonings, advocate for healthier school lunches, and launch a vegan ice-cream line called 36 Brix. Why vegan? Even that ties into social justice — increased access to more nutritious food. "You want to go to 7-Eleven and get a Klondike bar, it's there," he says. "Nondairy desserts are not. Everyone should have the choice to live a healthier lifestyle."
Back in the Ghetto Gastro kitchen, Livingston is braising pineapples in coconut fat, prepping for a private dinner organized by a media company. (He's making a riff on piragua, a Puerto Rican shaved-ice dessert that's ubiquitous in the Bronx, with a top-of-the-line kakigori machine he hauled back from Noma's pop-up in Japan.) In the middle of prep, Livingston's mom, Robin, walks into the Andrew Freedman kitchen. She works at a nearby medical center and is on her lunch break, taking full advantage of her son's return home. "I came for food!" she announces. "Where's my care package you promised?" He lets us taste his vegan ice cream, made with raw cashews, water, ripe bananas, brown sugar, rose-scented sugar, and a tiny bit of coconut fat. Even though he's done with Noma, it still shapes his cooking. "When you eat René's food, it brings you life — that's what I want to do here." Redzepi also took his concept of a place — his native Scandinavia — and turned it into a business that went on to become a global phenomenon. Livingston is ready to do something similar for his hometown. "I'm going to have to climb — we're all going to have to climb to get to the next level," he says. "We've just got to keep climbing."