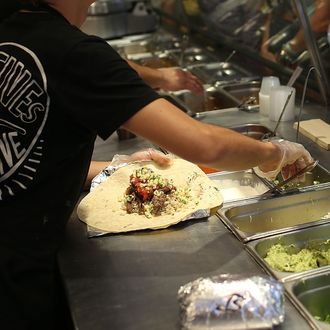 "On second thought, just torch that burrito."
Photo: Joe Raedle/Getty Images
Officials in Los Angeles say a foodborne-illness outbreak may have struck one of their Chipotles. Business Insider reported a few hours ago that the L.A. Health Department's Acute Communicable Disease Control unit is investigating reports of sick customers who ate at the chain's location at 4550 West Pico Boulevard. The department hasn't said anything else about the scare's validity or scope, but no doubt will be bringing everyone up to speed as soon as it can.
As always, spokesperson Chris Arnold says Chipotle takes such reports "very seriously," but also cautions that "no clinical validation" is associated yet with these in particular, nor have they received direct complaints that would help "substantiate these claims." He adds: "As a precautionary measure, we have implemented heightened sanitization measures at this restaurant, which we do as a matter of policy if ever we receive reports of illness (even if they are not substantiated)."
The complaints first appeared on food-safety watchdog site IWasPoisoned.com, where Business Insider counted up to five separate posts complaining of illness after eating that location's food. People who report having meals on or around December 13 say they're getting nauseous, having diarrhea, and throwing up. One person complains that their whole family was hit by "constant vomiting every two hours" after consuming burrito bowls. Another says "a co-worker is having the same symptoms," and this store's food is all they have "in common."
While IWasPoisoned.com sounds like a personal-injury firm's site for a mesothelioma class action, it's actually proven legit before, like back in July when it helped flag a Virginia Chipotle where health officials later determined that norovirus had sickened at least 135 people.