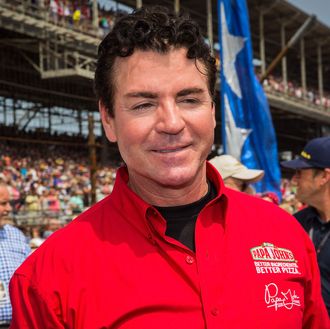 The big question: Will Peyton Manning still be his friend?
Photo: Michael Hickey/Getty Images
The reign of Papa John is over. The CEO of America's third-largest pizza chain will step aside just weeks after getting serious blowback for his NFL comments, the company has announced. John Schnatter has run the show since selling Papa John's first pizza out of his dad's tavern's broom closet in 1984, but his controversial decision to harangue NFL players for protesting the national anthem, then blame the chain's own ho-hum pizza sales on the league's handling of that, caused a massive PR headache. (Undoubtedly the highlight: A neo-Nazi website declaring Papa John's the "official pizza" of the alt-right, and the chain responding by giving white supremacists the middle-finger emoji on Twitter.)
Taking Schnatter's place on January 1 will be chief operating officer and current president Steve Ritchie. He's a 21-year veteran of the company, starting as a $6-an-hour delivery guy, then climbing the ladder from store manager up to the company's C-suite in 2014. In a statement, Schnatter says that they could not have "a more proven leader to guide Papa John's through its next stage of growth," although it's unknown how inversely related he believes the amount of pregame kneeling is to pizza sales.
Schnatter will stick around as Papa John's chairman, and spend his newfound free time pursuing "his personal passion for entrepreneurship, leadership development, and education." No official reason was given for his departure, but the timing's coincidence seems clear — even other pizza chains came out and mocked the idea that the dispute roiling the NFL, serious as it was, could do real damage to pizza sales. As Schnatter told shareholders when lashing out at the NFL, "Leadership starts at the top, and this is an example of poor leadership."