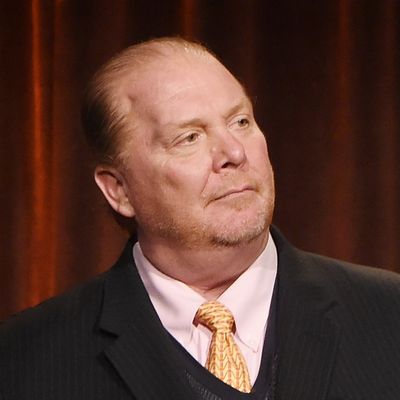 Batali.
Photo: Jamie McCarthy/Getty Images
Today, Mario Batali became the latest high-profile man to be accused of sexual harassment since the Harvey Weinstein accusations opened the floodgates. In a report published this morning by Eater, four women came forward with allegations of groping, lewd comments, and other inappropriate and demeaning behavior. As a result of these allegations surfacing, Batali has stepped away from but remains an owner of his B&B Restaurant Group, ABC asked him to step away from The Chew, and the Food Network says it has put a hold on plans to reboot Molto Mario.
Batali is the second major chef to face these accusations. In late October, the New Orleans Times-Picayune published its eight-month-long investigation into the systematic sexual harassment at John Besh's restaurants. Besh stepped away from his restaurant group and got his cooking shows pulled from public-television syndication. Those in the hospitality industry know that there's a widespread culture of sexual harassment and abuse, to which lower-rung employees, the undocumented, working-class people, and women are particularly vulnerable.
In the hierarchy of celebrity chefs, it doesn't get much higher — if it all — than Batali. But Toronto restaurateur and writer Jen Agg cautions anyone who is hopeful that deeply ingrained mores will change overnight. "The restaurant industry is too dependent on not changing to really change. As is patriarchy," she writes to Grub. "The change that actually needs to happen is too difficult for most people to think about, so it's much, much easier to pay lip service, express disappointment at yet another powerful man being spotlit as a creep or worse — and the leaders in the restaurant industry (with a few notable exceptions) aren't even doing that. The bare minimum is somehow, too much."
Preeti Mistry, who talked with Grub about the industry's culture of abuse after the Besh news broke, says that investors who think of men like Batali as safer bets should view this as moment for reflection. "We all know there is a huge gender and race disparity in who gets big money investors and who doesn't. All these #chefbros didn't build their slimey gropey restaurant empires on their own dimes," Mistry writes over email. "So MAYBE but probably not because #whitemalesupremacy, investors should consider (I know it sounds crazy … pretty whacky stuff folks) investing in women and POC who are trying to change this industry and make a positive impact, instead of abusing their power and privilege like all these #chefbros and their foot soldiers of gross behavior."
Chefs, writers, and public figures have commented on the news since it came out this morning, and some have indicated that there's more to come:
This post has been updated with comments from industry members Jen Agg and Preeti Mistry.