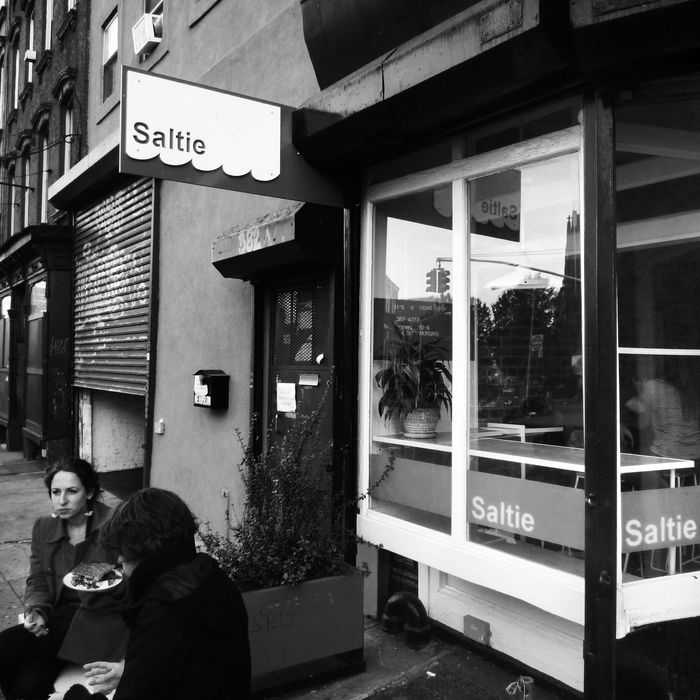 It closes on December 31.
Photo: MP Foss
Scuttlebutt. Captain's Daughter. Ship's Biscuit. Seadogs might know them as something else entirely, but to the legions of sandwich fans across Brooklyn, these are instantly recognizable as the names of three of Saltie's most beloved creations. Now, the sun is setting on their journey, as owner Caroline Fidanza announced that she's closing up shop on December 31.
Saltie set sail on a rather unromantic stretch of Metropolitan Avenue in Williamsburg in 2009, with Fidanza, who'd spent considerable time working with the Andrew Tarlow restaurant empire, at the helm. Williamsburg freelancers with flexible work hours flocked to the sliver of a café (which wasn't open for dinner), ordering at the counter and angling for one of the stools in the gently nautically-themed space.
The petite menu primarily features sandwiches with slightly oddball ingredients, like pickled eggs and sardines, served on craggy, salt-studded focaccia. It isn't vegetarian, per se, but meat makes only occasional appearances, playing second fiddle to pickly, herby, crunchy vegetable things, cheese, and eggs. The pastry case includes British-leaning sweets, like Eccles cake and pistachio-laced chocolate nudge cookies, and the coffee is available New England–style, with maple syrup.
The food was, and is, unwaveringly excellent, and reasonably priced in a neighborhood that increasingly isn't. But I don't think that's (entirely) why Saltie did well, or why the abrupt news of its closure feels so melancholy. (Fortunately, and somewhat surprisingly, Williamsburg isn't to blame; Fidanza used the hashtag #itsnottherentitsme, adding, "It's time to make a change and see what else there is to do out there.") What made Saltie special was how personal it felt. This is not to say that you needed to know Fidanza to enjoy the Saltie experience — you needed only to appreciate that she ran a tight ship, taking good care of ingredients and customers.
Long past the point where other operators might have started phoning it in, Saltie has maintained a consistent level of quality, and continued to innovate (see: the short-lived but sorely missed Mr. Curry pop-up; constantly rotating soup and salad specials that often stole the wind right out of the sandwich sails). Things did not get stale, creatively speaking, at Saltie — on a near-daily basis, the team there has found new ways to express themselves. And they have done so with a minimum of fuss, relying on Fidanza's steady, patient guidance in lieu of gimmicks or quick hits. In this peculiar moment, where restaurant groups create manicured stages, Saltie's low-key, high-quality approach has been a breath of fresh air.
Saltie had integrity. There was a brief, ill-fated journey into the Gotham West food hall, which Fidanza recently called a "soul-crushing" experience, but the brand itself never felt diluted. In fact, it never felt like a brand at all, and in the age of restaurants designing menus specifically for Instagram and big-shot chefs cashing in their credibility for a fast-casual payout, that's increasingly hard to find. The financial pressures of the industry don't make operating a small business easy, but still, I can think of only a few others, like Brooks Headley's similarly excellent and similarly idiosyncratic-feeling Superiority Burger, that uphold this principle so well.
Apparently, I'm not the only one who feels this way. The day the news broke (which coincided with several, "Jamie, are you okay?" texts), I was in Williamsburg for a meeting. As soon as it wrapped, I walked over to Saltie, fully prepared to order one of everything and figure out how to freeze it later. (Fortunately, most recipes are preserved in the Saltie cookbook.) But as I approached, a full hour before normal closing time, I saw the metal gate had been drawn, with a staffer sweeping up outside.
I asked him why they were closed early and he shook his head: "We got crushed with customers after the news broke," he said. "It was crazy. Eventually we ran out of bread, and there was nothing more we could do."