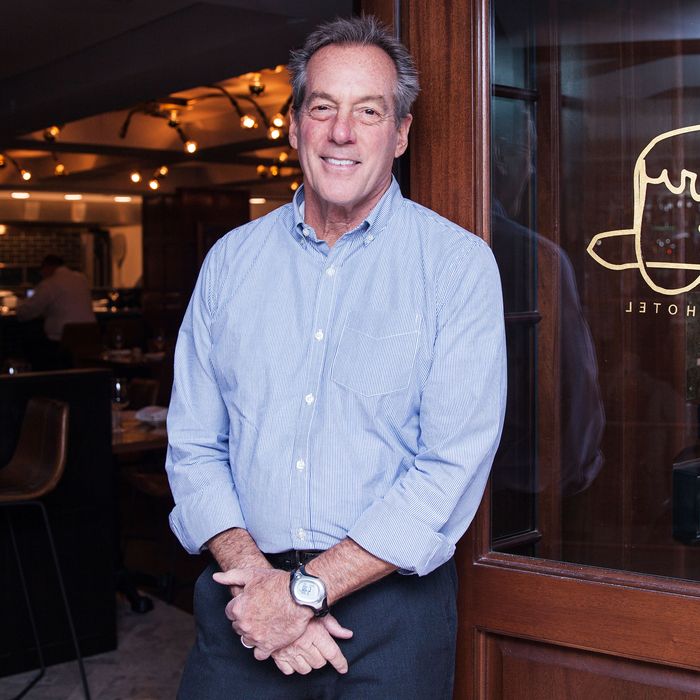 "I was totally retired … But I got back into it, and once you get going, you can't stop."
Photo: Jessica Nash
For 25 years, Stephen Hanson was one of the biggest names in New York restaurants. Under the umbrella of his B.R. Guest restaurant group, he opened massive, and massively hyped, restaurants like Dos Caminos, Ruby Foo's, Blue Water Grill, and Michael White's Fiamma. By 2012, he had grown his portfolio to 26 restaurants in New York, Las Vegas, Atlantic City, and Florida. But in 2013, he left B.R. Guest with a plan to, he says, retire. Then, he couldn't resist a new opportunity. Hanson's new restaurant is Henry in the Life Hotel. It's a restaurant that feels in keeping with those he opened during the B.R. Guest years, but for 2017: a polished but not stuffy design, a straightforward and clear concept, and a menu (here) that leans heavily on crowd-pleasers, like beef tartare, pastas, pizza, and baked clams. The restaurateur talked with Grub about his second act, his plans for the future, and what's changed in the industry since opening Coconut Grill in 1987.
You opened hotels and lots of restaurants before, under your old company, B.R. Guest. What's different about opening in 2017 as opposed to, say, the '80s or '90s?
When I first started in this business — this is my fourth hotel chain — the consumer just wanted to have fun. It was more about a big, crazy nightclub scene. So, if this was 1995, we would just bust out the alcohol and music. It's morphed over the years with the sophistication of the consumer, and now, 50 percent of the time — this is a stat — people will choose a hotel because of the restaurant. Look, I've done five-star hotels. I have a three-star hotel that's affordable and I think the restaurant adds value at an affordable level.
Would you compare the Life Hotel to, for example, the Freehand?
So, I own the asset. I want to be able to control it all. With most hotels, it's a farmed-out situation and contract. As great as they are, the fellow running the restaurant really doesn't care about the guy in room 202. Here, I try to be a neighborhood restaurant for the area and the people upstairs. I can't tell you how many neighborhoods I went into that no one wanted to go into, and — I'm not going to take all the credit. There were others. But I bought Isabella's out of fifth-generation bankruptcy. It was considered a haunted space. It lasted 30 years. Paying rent is no fun, because if you make the area successful they're jacking the rent up.
Have you been working on this project since you left B.R. Guest?
No, no, no. I was totally retired. Then a fellow who is a partner here asked, "Why don't you come back in?" I thought it was going to be a little bit easier, but building something in New York has gotten a lot harder. But I got back into it, and once you get going, you can't stop.
Why is it harder now than it was 10, 15, whatever years ago?
It's everything. New York is booming. Dealing with the city, which is really pretty hard for the builder but good for the consumer. It's very stringent. But you know? You're probably not going to have many accidents. You want to take that liability off yourself, so I kind of like that.
What about the Department of Health?
So, there's a backstory. Back in the day, I was Michael Bloomberg's go-to guy for dealing with the restaurant and business community. I helped negotiate the letter-grading system when it first started coming out. I was the bridge guy. Same with the smoking laws. I worked with Tom Frieden, who headed the CDC for Obama, figuring out a plan for the laws and how to phase them in. When I was still with B.R. Guest, they got a lot tougher on cleanliness, I said, "great!" because I'm a clean freak, and it used to be that I was the only one yelling at everybody, then I could blame the city!
It's been 30 years since you opened your first place. How else has the industry changed?
It's really difficult to find dedicated workers. Thirty years ago, you could hire somebody and you'd accept a photo of Donald Duck. Today, there is no fooling around. But I've never been sued by anybody. I've never had any class-action lawsuits, I'm probably the only company in the city that didn't. I've never been sued over discrimination — well, I've never had one that I've lost or had to settle.
What about the city's market of restaurants? It's a lot more saturated with options now, and that presents challenges, too.
Yes, 100 percent. Those options are there, and some of the guys are doing extremely fun, quality things. The sophistication of the chefs and consumers in the last ten years has, I think, gone up tenfold. Restaurants today are pushing all the limits. Like the baked clams with 'nduja we have on the menu. I don't know if you're going to find that anywhere else.
You've always talked about putting a big emphasis on hospitality. There was the New York story, "Steve Hanson Wants You to Be Happy." Do you feel diners' expectations have changed?
I don't think anything's really changed. Everyone wants value and to be treated respectfully. You try to have people working for you that have hospitality in their soul. When you find those people, you can have a great product. I would say the chef is 60 percent of it, the front of the house is 30 to 40 percent. And I want a place that feels good and you feel good dining in. Sitting here in different areas and aspects of the room, I never felt there was a bad seat in the house.
What about access to ingredients now versus earlier in your career?
The world has opened up so much. When I first opened up Coconut Grill in 1985, people hardly knew what radicchio was, and they were drinking Mateus, the wine bottle with the wicker on it. Today, the world is flat with ingredients.
Did it limit you?
I didn't know. You were naïve. Everybody was just experimenting. Bringing things in from Italy was a big deal. Even when I had Fiamma with Michael White, we were importing Italian anchovies. That was a big deal. Now, you can probably get them on Amazon.
It's not just restaurants anymore, though, but higher-end delivery services like Caviar. Are they competition?
No. It's the same thing as Airbnb. If you want to go to Brooklyn and pay $100 less and sit by yourself or with some weird dude that you don't know, have fun. That's not what I'm selling. I'm selling an environment. I'm selling a sociability. Having Caviar by yourself doesn't resonate with what my mentality of hospitality is or where I think people are going. I think that the people that are trying to make you feel like that — that high-end delivery is an alternative — are the ones providing the service. It's a little bit trumped up. And I don't think there's a whole bunch of guys who want to get a higher-end product delivered to their apartment and want to eat it by themselves.
In that old New York article, you talked about training manuals and telling staff they aren't here to pick up customers. Right now, some women are actually being given an opportunity to talk more about sexual harassment, including in this industry.
I used to tell people that I wasn't going to have their habits kill my business. Way back when I started, Coconut Grill was very busy. Isabelle's was off the charts. And it was a social scene. Seinfeld used to come in, he did a great show about us. Bruce Willis, Steve Martin, models would come in. Sports players. Even there at Park Avenue at Blue Water Grill, it morphed into a social scene: You had hot waitresses, you had hot waiters, and you had a hot clientele. But you can't let those two interact because sometimes it's going to hurt your business.
We used to have Christmas parties and I stopped it 25 years ago. Too much alcohol, too much fun, and too much of a crazy scene. I was always aware of not crossing that line. I'm sure that, unfortunately, things happened back then in the '80s and '90s that are probably not acceptable today. But I was pretty stringent that there was no tolerance for that … Again, because I was a large restaurateur, I knew that if there was an issue, you were going to go for it. I had to protect the business.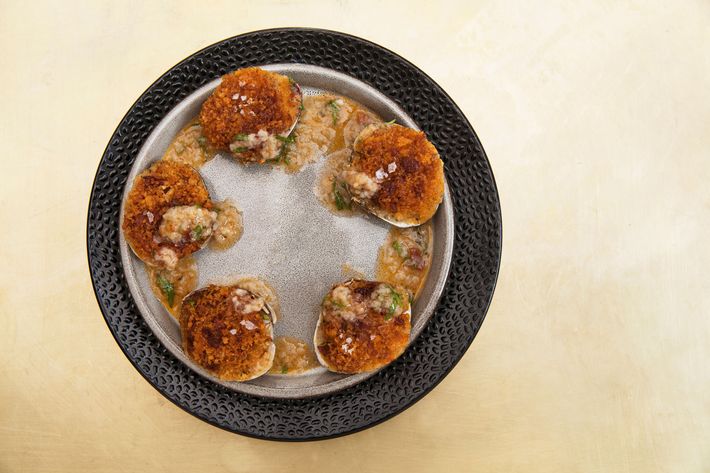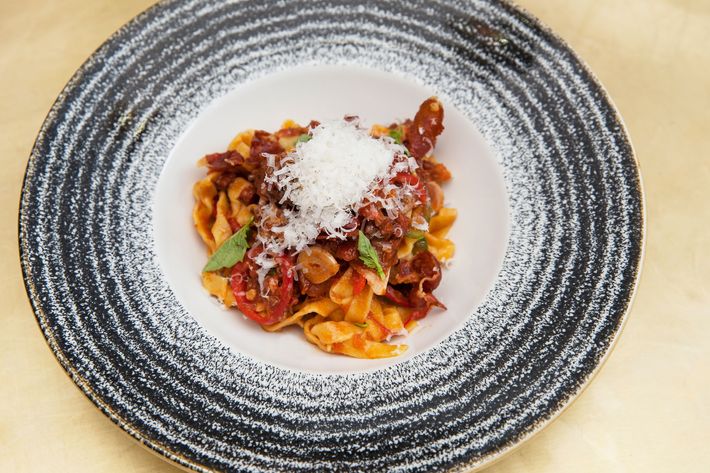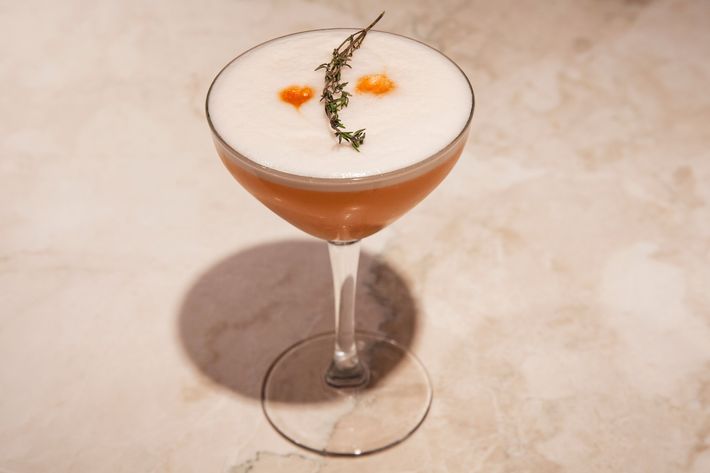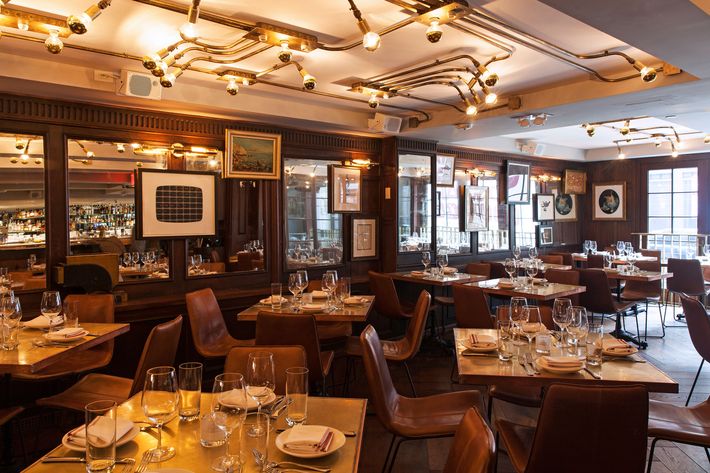 Henry, 19 W. 31st St., nr. Fifth Ave.; 212-615-9910