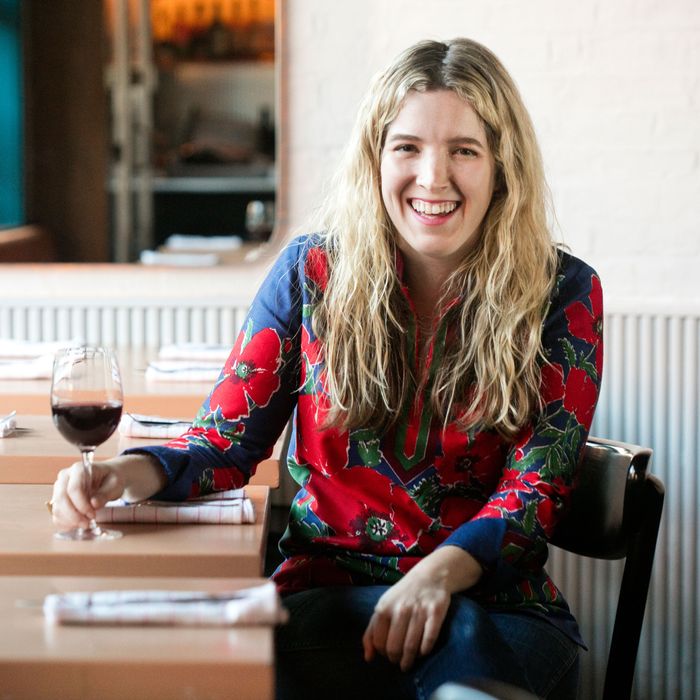 At Hart's.
Photo: Melissa Hom
Helen Hollyman, the editor-in-chief of Munchies and the author of the site's new cookbook, calls New York home, but she's a Texan, first and foremost. "Austin is the best place," she says. "It's very accurate to how Dazed and Confused is — there's nothing going on, in a good way." Fortunately, she got to return home this week for Thanksgiving, reuniting with puffy tacos and a family fridge full of Topo Chico. Read all about it in this week's Grub Street Diet.
Thursday, November 23
Today is not normal, and what I'm about to divulge is debatably harrowing. For breakfast, I wake up in Austin around 10 a.m., pour a cup of coffee, and turn on the Thanksgiving Day Parade. It is a miracle that there is a cup of coffee available at this hour. When you stay at my parents' house, you have to wake up early if you want caffeine because they typically consume an entire pot of coffee between the two of them before 8 a.m.
I skip breakfast because today is Thanksgiving, and I'm prepared to stretch my stomach this afternoon with the feast that's ahead. I drink a Topo Chico because there is always an unlimited supply of them in the fridge here for unknown reasons, and it is the most refreshing beverage in the universe. I watch the Westminster Dog Show with my sister Mary and crave wedding cake because John O'Hurley — who played J. Peterman on Seinfeld — is commentating, and that episode where Elaine eats his vintage slice of wedding cake always comes to mind when I hear him speak. I'm hungry and I want cake, but I deal with reality and make spinach-artichoke dip, which I'm bringing as an appetizer to my cousin's house this afternoon.
When we arrive, I snack on deviled eggs and the spinach-artichoke dip and have a glass of wine. We will call this lunch-dinner because I cover the entire surface area of my plate with the following items: roasted Brussels sprouts, corn-bread stuffing, sweet-potato-and-carrot purée, potato gratin, ham, turkey with gravy, and a fluffy biscuit slathered in honey butter from my brother-in-law Michael Fojtasek's restaurant, Olamaie. I have two slices of pie: chess and bourbon-pecan. I'm severely allergic to anything pumpkin, but I'm thankful that I can't eat it in pie form because it looks like the best in the entire lineup.
I get home and I feel sick. I did this to myself, so I drink a Topo Chico. I watch Scrooged with Bill Murray and think it's a great idea to drink a milk punch to get in the holiday spirit. A very lazy milk punch; I steep almond milk with cinnamon and nutmeg, and then cool it down, and add whiskey. I feel super gross.
Friday, November 24
For breakfast, I wake up around 9:30, and there is no coffee. My mom makes another pot and refills her cup before she pours one for me. Any other day in Austin, and I'd go to Veracruz All Natural for migas breakfast tacos, but today, I'm going to fast until lunch because I'm still full from yesterday.
Lunch is on the way to the airport. My family stops in at El Chilito, a taco spot that's been around for a while, and we all order picadillo puffy tacos and Topo Chicos.
Dinner is an adult version of a meal at a middle-school birthday party — a bag of Haribo gummy bears and popcorn — on my flight back to New York. I watch the Real Housewives of Atlanta and order a glass of Chardonnay because I hate flying and both of these things are soothing in this environment. A flight attendant comes by and delivers a small bag of peanuts. I start snacking on them and listen to NeNe Leakes and Shereé Whitfield drink Champagne and gossip about Kenya Moore's alleged secret husband. We are all having a great time.
A flight attendant interrupts on the intercom and asks that the passengers who are eating peanuts to close their bags because someone has a peanut allergy. I order another glass of wine and get back to the gummy bears.
Saturday, November 25
I wake up early and go to La Colombe on Lafayette for a latte. I take it to go and head over to Chelsea to get in line for the Yayoi Kusama show at the David Zwirner Gallery. The line wraps around the entire block, and the wait time is four hours, so I leave because I'm impatient and head over to El Quinto Pino for a solo brunch instead. I order the uni panini, a glass of wine, and read the New York Times.
Dinner is at my friend Christina Tosi's apartment. I brought a bottle of orange wine called Lovamor (the one with the cute and creepy label of Little Red Riding Hood kissing a wolf), and Tosi has put out some snacks: baby carrots, pretzels, and Lays bacon-and-cheddar potato chips. Then she makes us build-it-yourself nachos with Tosi-style fixings: bean dip, cheese dip — not to be confused with queso — and homemade guacamole and salsa. We all hang out and make friendship bracelets by a fire because that is Christina Tosi in a nutshell, and she is literally craftier than anyone else I know, but I've never met Amy Sedaris. Somehow, I am the only person in the group tonight who has ever worked as a camp counselor, and yet my friendship bracelet looks like something that got mangled in a car door — I blame it on the wine spritzers I've consumed tonight.
Sunday, November 26
I wake up and go to Café Grumpy in my neighborhood (Nolita) and order a coffee to go. I hop into a cab and meet my friend Emily for brunch at my friend Nick Perkin's restaurant, Hart's. Emily almost didn't make it because her 6-month-old projectile-vomited right before our brunch date, but she is a champ and decides to come anyway. I order the fried chicken, which is served with tahini and za'atar, and Emily orders the sunny eggs with cured sardines and salsa verde, and we drink lots of coffee.
For dinner, I decide to cook some homemade chicken posole with some frozen hatch chili peppers I have in my freezer. I drink a LaCroix (pamplemousse flavor) and decide to creep myself out by listening to the Up and Vanished podcast (about the unsolved mystery of a small-town beauty queen–school teacher who went missing). I drink another LaCroix because even though it's not Topo Chico, it's hitting the spot.
A few hours later, I'm hungry for dinner, but the posole isn't ready, so I order crab curry over rice noodles from Uncle Boons Sister. Since I live alone, I watch the new Spike Lee show, She's Gotta Have It, to distract myself from how creeped out I am from listening to the podcast and decide that I need dessert, so I go back to Uncle Boons Sister and order the coconut-and-peanut rama ice cream, which is what would happen if you gave a Nestlé Drumstick a total makeover and swapped everything out for toasted coconut, caramel, and peanuts.
Monday, November 27
I wake up at 6:30 and make some coffee. I answer a bunch of work emails and then listen to another episode of Up and Vanished because it's light outside. I make an olive oil–fried egg with tiny roasted sweet potatoes and sambal oelek for breakfast.
Since it's cold outside, I order the La Mulata arepa (grilled white cheese with jalapeños, black beans, sautéed peppers, and fried sweet plantains) from Caracas for lunch. I don't know what's in the yellow hot sauce that they serve with it, but it is incredible, and I want to marry whoever invented it.
For dinner, I eat the posole I made last night and top it with slices of avocado and radishes. I have drained the supply of LaCroix in my fridge.
Tuesday, November 28
I wake up around 7 and make some coffee. I run downstairs and grab a salt bagel toasted with butter from Black Seed Bagel.
Conveniently around lunchtime, I get a text from my friend Matty Matheson, who is in town for 24 hours. We meet up at Samurai Mama for gyoza, udon, and sushi, and we both go a little too crazy dabbing the sushi in the heavily wasabi-spiked soy sauce they offer while we catch up. We are both tearing up, but it is very delicious and makes it look like we are very happy to see each other.
For dinner, I meet up with my friend Jena Derman at Ten Bells for a glass of wine, and then we walk over to Wu's Wonton King for dinner. On the street in front of the restaurant, we run into Danny Bowien, who is on his way to meet up with his wife, but insists on hanging out with us for a few minutes to catch up. He ends up ordering for us: wonton-noodle soup, fried rice, clams with XO sauce, and incredible Dungeness crab that's deep-fried and topped with crispy garlic and ginger. In typical Danny fashion, he has stayed long enough to make sure that we've gotten an inappropriately large amount of food, like a loving grandmother, only to disappear as if he were some sort of angel of food comatose. The waiter comes by and delivers Tsing-Taos. Shaking his head, he says, "This is too much food, too much food," and walks away.