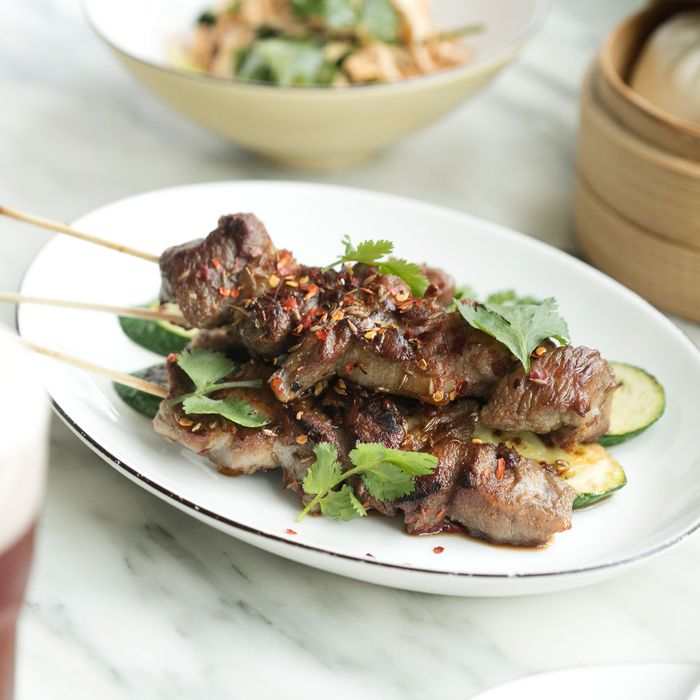 There will be lamb skewers and other dishes meant to be had with drinks.
Photo: Melissa Hom
Hao Noodle and Tea was one of 2016's biggest hits, serving a style of modern, pan-regional Chinese food that hadn't been seen in New York. New York's Adam Platt named it one of 2017's Best New Restaurants, saying it offered this city its "first window into this brave new world" of contemporary Chinese cuisine. The New York Times' Pete Wells and Eater New York's Robert Sietsema were similarly enthusiastic about the place, the American debut of restaurateur Zhu (Julia) Rong, who runs a successful chain of higher-end restaurants in China. Now, there's good news for her fans: Early next year, she'll expand to 343 West 14th Street in the Meatpacking District with a Hao Noodle spinoff that's all about Chinese drinking food.
What does that mean? Skewers like pork and lamb with a cumin-chili spice rub — the kinds that perfume streets in China at night — cooked over grills. "You can compare them to Japanese yakitori style," says Jasmine Wong, Hao's general manager. "But they're in the style of Chongqing, Julia's hometown."
There's also an added emphasis on cold appetizers, like Shanghai-style drunken chicken and strips of tofu in chili oil, as well as lots of noodles. (Note: They're testing some dishes out at the original Hao Noodle now.) Like the first Hao Noodle, Rong wants this to be a neighborhood restaurant. But it's a different neighborhood, so it's tailored more to the surrounding nightlife scene. Which means out with the afternoon tea, in with happy hour and later hours. Expect plenty of beer and wine, but they're still unsure about spirits. "Hard liquor is not really our style," Rong's assistant Effie Li says, "and, anyway, we think beer and wines are the best match for our food."
The design of the space will be less cozy and more modern, with lots of art from Rong's collection, as at the original Hao. There will be an open kitchen chiefly because of the skewers, Li says, so that they can sort of replicate the experience of how they're served back home. Hao Noodle and Tea's kitchen is run by two chefs who were brought over from Madam Zhu's in China, and if all goes according to plan (read: if the visa works out) this second location will be run by a third.
Even before opening her first New York spot, Rong talked grand expansion plans, going so far as to suggest that she wanted to open as many as 50 places over five years. Hao No. 2 won't be her last restaurant here. They're eyeing spaces on the Upper West Side and Upper East Side, and they're also planning a line of faster-paced, smaller-size noodle bars to spread the gospel of their best-in-show dan-dan noodles.