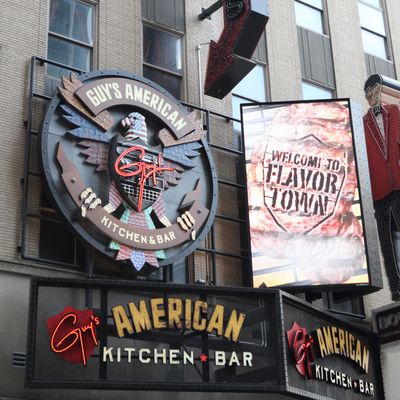 Rest in taco grease.
Photo: Walter McBride/Corbis via Getty Images
Pour one out — preferably a Lady Liberty Cosmo — for Guy's American Kitchen & Bar. Employees at Guy Fieri's 500-person Times Square restaurant tell Eater they will throw in the towel after service concludes this New Year's Eve, just shy of five-and-a-half years of Dragon Chili Cheese Fries by the plateful, "rockin' tunes," and branded merch.
As lampooned as the joint was on social media, it's worth noting, as a testament to its resilience, that the restaurant remained very popular despite all the odds: weathering Pete Wells's zero-star New York Times evisceration, the only restaurant review to ever appear on the paper's year-end most-emailed list; surviving two hours of Martin Shkreli livestreaming the blows he traded during a "liberal media trash bag journalist happy hour" there; and even persevering after the Mayor of Flavortown himself asked diners to "be realistic" about their apparently too-high expectations. (One other highlight it'd be too bad to not mention: The restaurant forgot to register its full name as a URL, so in 2013 a programmer turned GuysAmericanKitchenAndBar.com into a parody site. The is-this-fake-or-not menu included a "Honky-Tonky Double Barrel Meat Loaded Blast" dish and Bud Light that patrons must "wring out of a Hawaiian shirt.")
But credit where it's due: Few people can name a restaurant in the modern era that took as severe of a public beating, yet unapologetically stuck to its guns. Even fans who are ready to mourn the loss feel the need to add a disclaimer:
Details remain scarce, beyond the fact that "employees," plural, reportedly confirmed the December 31 closure date to Eater. Restaurant managers tell Grub they "aren't confirming or denying anything" just yet. Whatever the case, if the date is accurate, people who invested $799 in the restaurant's five-hour VIP package so their 2018 NYE party can "go up to eleven" may have scored a better deal than they thought.