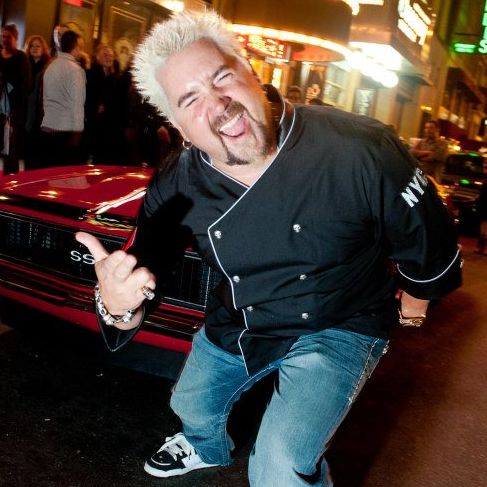 Not so bomb-dot-com anymore.
Photo: Courtesy of Guy's American Kitchen & Bar
After five years, the Donkey Sauce has run dry at Guy Fieri's Times Square restaurant. The party at Guy's American Kitchen & Bar will officially be over as of January 1, which leaves New Yorkers just three more days to visit the place that has, over the course of its entire existence, perhaps been a bigger punching bag than any other kitchen or bar in history. Here's a full rundown of all of the highlights, and lowlights, in the entire life span of Flavortown's New York City outpost.
September 10, 2012: Guy's American Kitchen & Bar opens, promising the Times Square masses a dose of authenticity. "Cars can't fake fast, guitars can't fake rock and roll," the restaurant's marketing copy proclaims, "and no one can fake the feel-good flavors of American cuisine."
September 11, 2012: Yelpers waste no time in rating the joint; one day after opening, Guy's American sits at two-and-a-half stars. (It's since recovered slightly, with three.)
September 28, 2012: Anthony Bourdain weighs in on his nemesis's magnum opus — the first of many, many times — calling it a "terror dome" and lamenting that it's "single-handedly turned the neighborhood into the Ed Hardy district."
October 2012: At his own roast, Bourdain once again goes after Guy's restaurant, saying Fieri "dropped a 500-seat deuce into Times Square," and that it looks "like TGI Fridays and Nickelback fucked Giants Stadium, and out came this."
November 13, 2012: Times critic Pete Wells drops his infamous zero-star review — a series of rhetorical questions that lay out in excruciating detail just how bad this restaurant is. The story has been called "likely the most widely read restaurant review ever." Also the most scathing.
December 2013: Fieri gets the full SNL treatment. The show's "Guy Fieri's Full Throttle Christmas" features Dog the Bounty Hunter, a 20-layer bean dip, and a spot-on Bobby Moynihan impersonation.
February 2014: Quiet about his feelings for a while, Bourdain reminds the public where he stands on things like Guy-talian Nachos. In this case, that "putting any two ingredients together and giving it a douchey name" is "immoral to me, but I'm probably just being a snob about it."
May 2015: Fieri admits that SNL's barbs were actually pretty "brilliant."
November 2015: Fieri claps back, telling GQ that Bourdain has "definitely gotta have issues, 'cos the average person doesn't behave that way."
August 2016: Martin Shkreli creates a quasi-Inception situation when he, then the "most-hated man in America," visits Guy's American Kitchen & Bar, arguably the most-hated restaurant in New York City, in order to prove … something?
November 2016: New York's inaugural FieriCon deposits a legion of grown men wearing glue-on goatees and flame shirts in their inner sanctum, Fieri's Times Square mecca.
June 2017: Fieri admits that the once-mysterious Donkey Sauce, the linchpin of his entire culinary persona, is basically just mayonnaise. "It's aioli," he tells Thrillist. "I called it Donkey Sauce because you have to make fun of it."
November 2017: FieriCon fanboys again finish at Guy's American, unaware that it will be their last chance to receive the greasy lifeblood of Flavortown.
December 28, 2017: News breaks that Guy's American Kitchen & Grill is kaput. Employees say it'll go out with a blast on New Year's Eve. As word of the restaurant's closing spreads, Chrissy Teigen takes to Twitter and offers what will likely be the last — and most positive — critical take in the restaurant's short history: