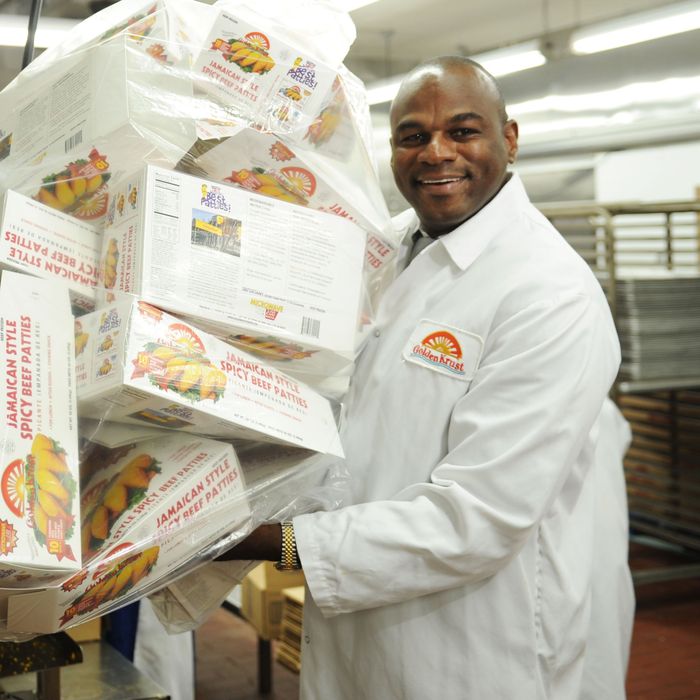 Lowell Hawthorne founded Golden Krust in 1989.
Photo: David Handschuh/NY Daily News via Getty Images
Lowell Hawthorne, the founder and CEO of Golden Krust Caribbean Bakery & Grill, was found dead at 5:10 p.m. on Saturday after committing suicide. Surveillance video from his Bronx factory described to the New York Post shows Hawthorne speaking with two workers in his office who then left, after which he shot himself in the head. The employees later returned to his office and one made a call, which the paper is told was to the police. The suicide was seemingly inexplicable and caused some speculation among employees, but the Post later reported that Hawthorne had tax debt in the millions. He was 57.
Golden Krust was started by Hawthorne in 1989, eight years after he came to the United States from Jamaica. He was 1 of 11 raised in Saint Andrew, Jamaica, where his dad was a baker and his parents founded Hawthorne & Sons Bakery. Inspired by that, he started Golden Krust with financial support from siblings and their loved ones. What was a single store in the Bronx grew to 17 by 1996, the year Hawthorne started franchising. It grew to 120 locations in nine states over the last 11 years, and claims to be the first Caribbean-owned business in the United States with a franchising license. The company says its products are also sold in over 200,000 supermarkets, as well as to New York public schools and the military. Hawthorne was, to say the least, a massive success story. He also kept the company in the family, saying he employed "dozens" of family members.
The news shocked both employees and the public, eliciting a response from the prime minister of Jamaica, Andrew Holness. Bronx borough president Ruben Diaz Jr. also shared his condolences, saying Hawthorne "was always ready to help my office whenever we needed him."
The New York Daily News reports that over a dozen former and current employees were outside of the factory following Hawthorne's death, some crying. On Sunday, flowers were left outside of the building by mourners. A 14-year employee named Everald Woods tells the Daily News that he was "the kind of guy you want to work for for that long" and described him as a boss who "takes care of his employees," and a former employee, Pete Tee, called him "a humble and good businessman" who "never seemed sad." Family also expressed disbelief over Hawthorne's suicide, with his nephew and Golden Krust spokesperson Steven Clarke telling the New York Times that when he saw Hawthorne at a family birthday party on Friday "he was himself."
Some employees say they were suspicious of Hawthorne's death, noting that his silver Tesla 85D was left in the road blocking a lane of traffic. But the Post reported on Sunday that Hawthorne feared he was being investigated by the Feds for evading millions in taxes. A family member told detectives that Hawthorne had admitted the debt to some family, and that he was "acting funny" in the hours leading up to his suicide.