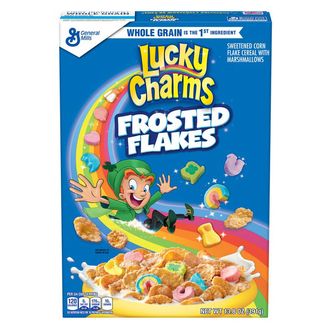 Magically duplicacious.
Photo: General Mills
What's it take for General Mills to shelve its bold quest to make Americans eat less sugary, and therefore more un-fun, breakfast cereals? A chance to troll Kellogg's, apparently: As a special holiday surprise, the Trix and Cheerios maker has released a brand-new cereal, spied a few days ago by snack blogger Junk Banter, that substitutes Lucky Charms' oat pieces for crunchy corn flakes exactly à la its rival's best-selling cereal and, more hilariously still, put inside a box straight-up labeled "Lucky Charms Frosted Flakes."
It's unclear where it's available, although 13.8-ounce boxes are already for sale on Instacart, and customers have stumbled upon them at Shop Rite as well. This suggests General Mills executed a fairly decent-sized rollout, which amounts to a ballsy full-scale assault on Kellogg's.
To put it in its proper context: Last year saw a limited release of Frosted Flakes with Marshmallows, so this has sort of already been done once. But the internet's top snack reviewers dismissed Kellogg's effort as kind of lousy, rejecting the marshmallow pucks in particular as too sweet ("There must be at least 100g of sugar per spoonful") and off theme unless the shape was meant to "represent coughed-up hairballs of Tony the Tiger's chest fur." Kellogg's fatal flaw was it somehow missed that so-called "marbits" — the technical word for the dried marshmallow-esque pieces you find in a kids' cereal or hot cocoa mix — are never about the taste. They're about delivering sugar in a form children will fight each other for like it's a rare collectible. Thus, a great opportunity just fell into General Mills' lap.
For anyone who thinks the odds of a lawsuit are gr-r-reat, Kellogg's can't trademark a generic term used all over the cereal aisle like "frosted flakes," meaning General Mills is free to slap those words on as many boxes as it wants. Of course, those boxes come in a distinctly Tony the Tiger–y shade of blue with incredibly familiar-looking white lettering.