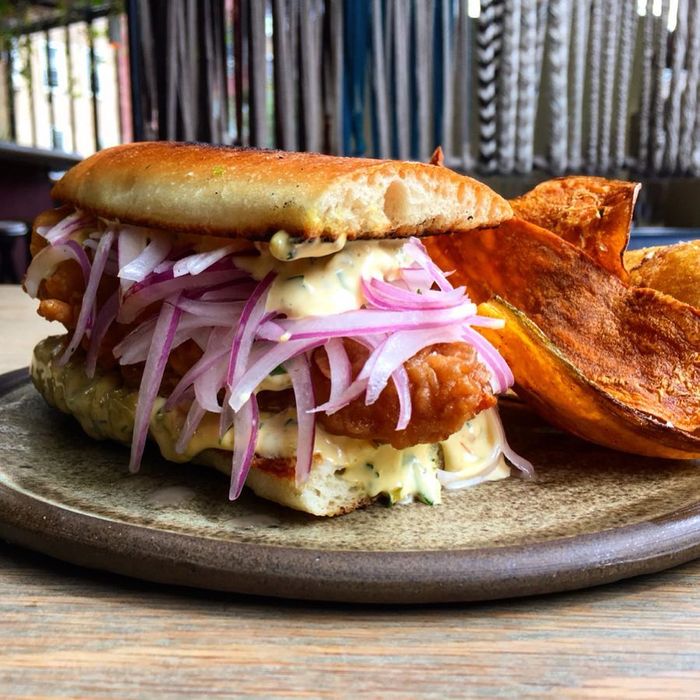 Llama Inn's cod sandwich could show up at chef Erik Ramirez's next spot.
Photo: Courtesy of Llama Inn
Llama Inn is a Peruvian restaurant inspired by the particular perspective of Erik Ramirez, a first-generation son of Peruvian immigrants who drifted from and back to his parents' cuisine. It's also a very fun place to eat and drink: New York's Underground Gourmet raved in a four-star review that his spin on the Peruvian-Chinese dish lomo saltado is "pure genius," and the New York Times' Pete Wells named it one of his ten favorite restaurants of 2016. For his second act, Ramirez (who was a sous chef at Eleven Madison Park and later executive chef at Raymi) will go even more casual next year with Deli Llama.
Set to open late spring to early summer, the business is a departure for Ramirez in two ways. It's opening in Manhattan (at 80 Carmine Street, former home of the esteemed pancake chain IHOP) and there won't be so much as seating. That's because Deli Llama won't be a restaurant, but a combination quick-service spot, with counters for snacking, and a market offering takeout, delivery, and catering. But it won't be a shrunk-down version of Llama Inn.
"There's a huge sandwich culture in Peru, right, we call them sanguche," Ramirez says. "They're delicious, and nobody has really done anything like that in New York — and we want to."
Those sandwiches, like the butifarra and chicharron, are typically served alongside smoothies, Ramirez says. It's something the chef fiddled with for weekday lunch at Llama Inn, and the two items will anchor the menu at Deli Llama. The menu will change, but the sandwiches he's serving currently at Llama Inn will be part of the rotation. He'll also serve ice cream during the summer, Peruvian soups during the winter, and tamales, empanadas, salads, and other food to go. At the market, he'll sell pickled chiles and other things made in-house for the restaurant, and on Sundays and Mondays, Ramirez wants to serve the rotisserie chicken he makes there, too.