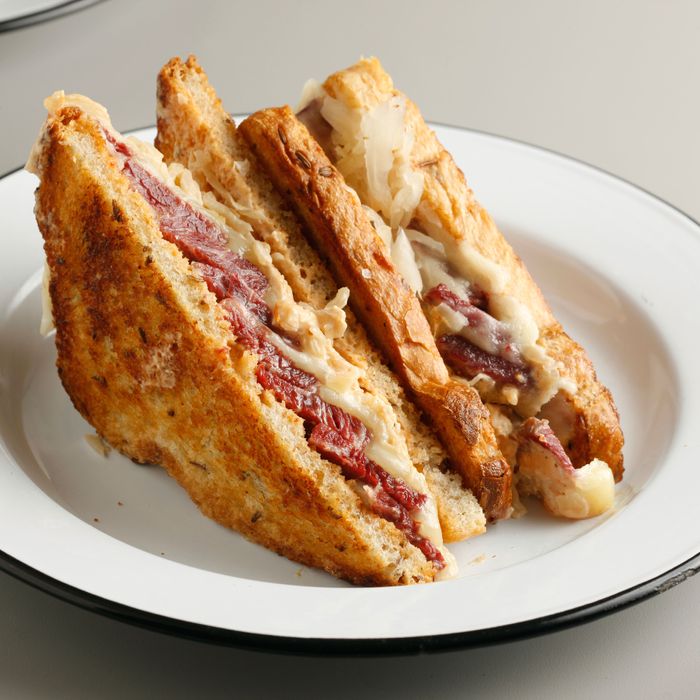 Court Street Grocers' Reuben.
Photo: Melissa Hom
To its fans, Saltie is an irreplaceable New York business. But after eight years, as you may have heard, owner Caroline Fidanza announced that she would close the shop at the end of this year. The news elicited moans of "RIP Scuttlbutt," and it's closing is certainly a bummer. If Saltie has to close, though, it's at least good news that there will be a passing of the ceremonial sandwich. Its replacement won't be an overpriced boutique or a bank, but will instead be a new location of Court Street Grocers, another favorite on the Brooklyn sandwich circuit.
Court Street co-owner Eric Finkelstein confirms the news to Grub, saying Fidanza isn't closing Saltie because of a rent issue or some other unfortunate turn. When Fidanza first reached out to Finkelstein and his co-owner, Matt Ross, she told them that she was simply ready to move on. Finkelstein sympathizes with bummed fans — "It's easily my favorite sandwich shop in New York," he says — but while he and Ross weren't looking to expand, he says they couldn't pass up on the opportunity.
They won't change a lot at their new location, and will buy all of Saltie's fixtures, likely keep the layout, and they hope retain staff, too. While Fidanza won't be a partner in the new location, there may also be an homage to Saltie on the menu, by way of a Saltie-style sandwich. ("I'd like to figure out to use that focaccia, too, because it's so good," Finklestein adds.) Those details are still being worked out, but the space's large kitchen means that, Finkelstein suggested vaguely, "there are a few things we'd like to do that we haven't done previously."
Saltie will close at the end of this month, and Finkelstein expects to get access to the space in February. Because everything is already in place, Williamsburg residents — all New Yorkers, really — can expect a quick turnaround, and they'll hopefully soon be able to eat pork-roll sandwiches while waiting for the overcrowded L trains.