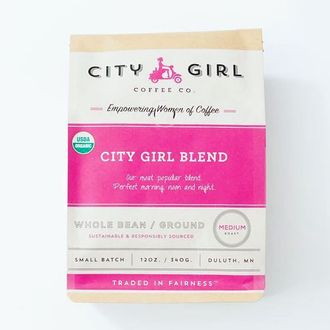 City Girl's bestselling bag.
Photo: City Girl Coffee
Studies have shown that nearly half of all coffee farmworkers are female, and that women may do as much as 70 percent of the work required to actually get the beans to market. This news may surprise you — but that's because studies also show women get little recognition for these very important contributions. City Girl, an "unapologetically feminine" coffee company founded by a woman whose family pioneered specialty coffee in Minnesota, is set on finally changing that.
The Times wrote about City Girl's owner Alyza Bohbot, and how she's laid the groundwork for presumably the country's only roastery that exclusively buys beans from women-run farms, which go into five different single-origin coffees, four blends, and a line of K-Cups. According to the article, Bohbot has also taken over her parents' Alakef Coffee Roasters, but she spun this pink-logoed sister company off specifically to fight the industry's gender gap.
Few women in coffee have leadership roles or a financial stake in their businesses, and for that you can partly blame the same male-dominated boardrooms found in every other industry. But there's a deeper problem Bohbot's coffee-sourcing tries to tackle — the discrimination rampant in the world's top coffee-producing nations. Countries like Brazil, Uganda, Indonesia, Ethiopia, and Colombia grow some of Earth's most delicious coffees, but they also regularly stifle female entrepreneurs by viewing them as "the daughter or the sister or the wife of someone in coffee." To help empower them, City Girl also donates 5 percent of profits to the International Women's Coffee Alliance and Café Femenino, an importer that works with female coffee farmers.
Bohbot tells the Times consultants initially warned her that having a cool mission like empowering women is "great" and all, but won't be "enough to drive sales." She says she argued coffee for and by women would sell just fine, and she of course was right: Sales are up 300 percent on the year, and that's with them limited to just City Girl's website and a handful of Twin Cities retailers. Next on Bohbot's radar is Chicago, St. Louis, and eventually cities on the East Coast. But there's no hurry — she's not willing to "sacrifice something" by blowing up too quickly.