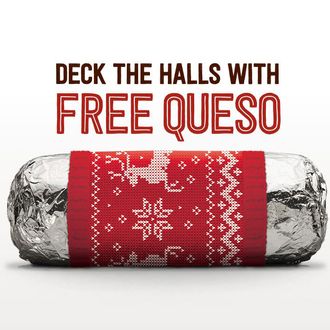 "Free" might still not be enough incentive.
Photo: Chipotle
Chipotle has announced a fitting holiday promotion: Wear an ugly sweater into Chipotle, and the burrito chain will publicly embarrass you further by including a free side of the new queso everybody keeps mocking. It's a one-day-only event — December 12. The company says that anyone who orders an entrée in their "cheesiest sweater" at participating locations during business hours that day will qualify.
Seemingly no limits have been put on what qualifies as "cheesy," so beyond that word being a clever play on the season's least-looked-forward-to party theme, it sounds as if Chipotle's desperate enough to let essentially any holidayish top count. "What do we mean by cheesy, you ask?" the release explains. "Well, just like your burrito order, it's what you make of it. (Surprise us.)"
It unveiled the giveaway yesterday on Twitter:
Queso was Chipotle's all-time most-requested menu item, but the burrito-eating public hasn't been enthused by the company's Velveeta-less interpretation. Batch one got some ho-hum reviews during product testing; batch two was rejiggered "slightly," but was still panned by customers who called the dip "grainy," "utter garbage," and a "crime against cheese." Chipotle doubled down, blaming the weird texture on its refusal to compromise on all-natural ingredients. It quietly retooled the recipe anyway. Customers still railed on it, and news leaked a few days ago that Chipotle has actually tweaked it yet again, for at least the third time.
Alas for the "cheesy sweater" giveaway's prospects, not many people responding to Chipotle's tweet seem to understand that the recipe ever changed:
Others were intrigued, but only under certain circumstances: