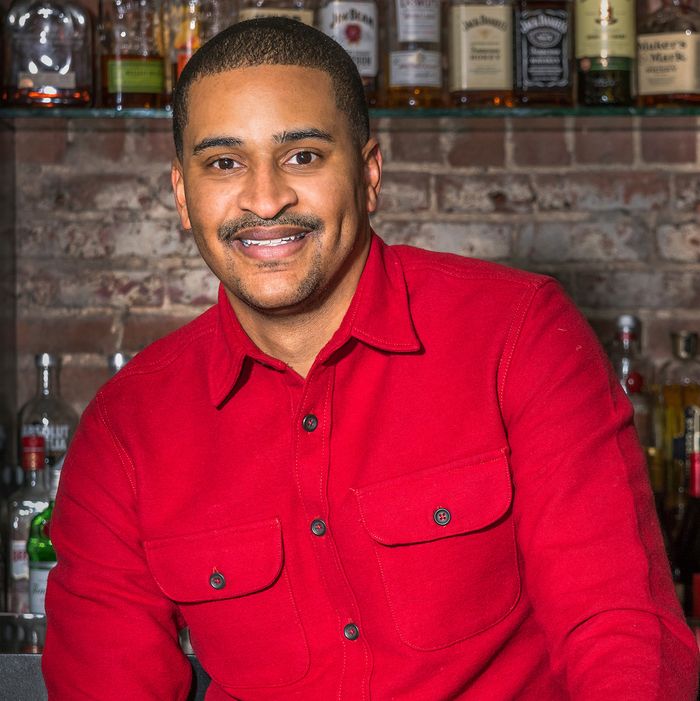 At Melba's.
Photo: Noah Fecks
It's been an eventful year for chef J.J. Johnson: He left his post as the executive chef of Minton's, became a new father to twins, and wrote his first book. Recently, he's been cooking at Chefs Club — a long-term residency that ends on December 31 — but he took a break to spend Christmas with his family in the Pocono Mountains. Despite his dislike of his mother's cooking ("It's fine, she knows!" he says), Johnson had a delightful holiday filled with spiked hot chocolate, French toast, and string beans stewed with smoked turkey. Read all about it in this week's Grub Street Diet.
Thursday, December 21
I'm a sucker for egg sandwiches, especially on poppy-seed buns, and Nickel & Diner's has country ham and hickory-smoked bacon. I got the potato hash on the side with the piquillo-pepper sauce, and I scarfed it down while taking a call and catching up on emails. I'm in the process of raising money for my first restaurant, so I'm waiting to hear back from potential investors.
Later, I swung over to Brownsville to see what the Brownsville Culinary School is about. My friend Nicole Taylor, who writes for the New York Times and is also on the board of the school, gave me a tour. I had a hibiscus tea and some five-spice pork. Really excited to see what they are doing.
From there, I had my first holiday party at Spring Place. As this is my first true year on my own as a small-business owner and chef, I wanted to celebrate and thank some of the people who really helped me make it possible. We had a nice little room off of their restaurant, where we drank bubbly and Yes Way Rosé, and nibbled on a nice spread of cheese, almonds, and za'atar hummus. Oh, and we finished with Negronis and Old Fashioneds. It was great to have all of my people in one room.
Just like any great night, the party at Spring Place was just the pregame to dinner at the Loyal. The place was packed, so we took over the bar and ate so much. We had these fried-chicken sandwiches that are only available after 10:30 p.m. with dill-pickle mayo on King's Hawaiian rolls, the Piedmontese burger with duck-fat tots, Parker House rolls, and Serrano ham with grissini. I was feeling a little too good, and tried ordering magnums of Champagne, which they didn't have, so we opted for bottles of Savart "L'Ouverture" 1er Cru Champagne instead.
John Fraser ended up buying me a round of shots. What a night! The music was right, and I even ran into some other restaurant-industry people who joined the party after their dinner reservations. There was certainly enough food to go around.
Friday, December 22
As it turns out, coming home late and waking up early is pretty rough when you have kids. I'm a first-time dad to baby twins, so needless to say, I was up early the next morning. My wife, Mia, whipped up breakfast — amazing scrambled eggs (pastured eggs that we get every weekend from the farmers' market on 110th Street), with all-beef Brooklyn hot dogs (our favorite) and seven-grain toast.
Lunch was funny — I worked out hard with my trainer, Robert Brace, whom I love because he really understands a chef's body, and after the workout, he gave me the "Gummy Bear Cleanse" from Pressed Juicery to eat for "lunch." Gummy bears are my weakness, and these had all types of good fruits and veggies in them. Of course, I was starving later, so I crushed a veggie burger that I have on the menu at Chefs Club (with avocado spread and stracciatella on a bao bun), and it was gone in two seconds.
Friday night was filled with stars in the Chefs Club dining room — Erika Liles was celebrating her birthday with fabulous friends, one of them being Jennifer Hudson. I was so excited to have them try my food.
In lieu of dinner, I picked at some dishes I'm working on for NYE — with no shortage of truffles, uni, foie gras, and caviar. Then, because there's nothing like ending a long night of service with indulgent food, I grabbed a pepperoni square slice and margherita slice from Prince Street Pizza. It gave me that amazing feeling of comfort.
Saturday, December 23
Since we're heading out of town to the Poconos (where I'm from) for the holidays, we stopped into our typical Sunday brunch spot, Melba's, a day early before hitting the road. I think this is the best brunch in Harlem. My wife and I shared the southern fried chicken and eggnog waffles, and shrimp and grits.
We picked up some killer wines from Martin Brothers Wine & Spirits to enjoy with the family, including Pascal Jolivet Sancerre and Peter Jakob Kühn Riesling.
We arrived in the Poconos a few hours later, and my mom made the family some T-bone steaks, frozen mixed veggies, and corn bread for dinner. I hate my mother's cooking. It's fine, she knows! The Poconos is kind of Walmart country. It was really surprising to see her make T-bone steaks. She said that she was trying to impress me. She made corn bread out of the box, which is what I do, too, so this was, overall, a good welcome-home dinner. Like, this is where you're from, don't forget!
Sunday, December 24
Christmas Eve day is all about cooking for me. I'm in the kitchen starting early in the morning through night, cooking for 13 people. I had to make a last-minute supermarket run, so I ate corn-beef hash for breakfast at the local Pioneer Diner on Route 611. I used to go to this diner weekly with my grandfather as a kid, and loved to pick my favorite songs in the jukebox.
The food I make on Christmas Eve is always about tradition. I follow what my grandmother used to make: roasted pork (which my dad brines before I come home, then I make a sofrito, rub it, and roast it in the oven for seven hours), rice and beans with butternut squash, pasteles, string beans stewed with smoked turkey, and more. This year, I was excited to also show my family my cookbook that I have worked on over the last year, called Between Harlem and Heaven. This was my show-off moment! So, I followed the braised-oxtail recipe, but replaced the oxtail with short ribs — my wife doesn't eat pork, so this was a good alternative to the roasted pork we were also serving. I picked and ate all day in the kitchen as I went. No time for a real lunch.
Showing them the cookbook for the first time was a strong family moment. I felt like I'd made it. We popped some sparkling Riesling. My mom now thinks it's her favorite thing.
After our big dinner, I called it a night early. I knew there was a big day ahead for my babies' first Christmas, and I was exhausted from cooking all day.
Monday, December 25
We started Christmas Day with mimosas. Breakfast consisted of carrot hash, pork sausages, scrambled eggs, and French toast with berry jam. After we ate, we sat around the tree and went from oldest to youngest to open presents. This year was my twins' first Christmas, but it turned out that Myles and Taya were more excited to see all of the colorful wrapping paper than they were about their gifts. They're too young to know what's going on, but it's all about keeping the tradition.
This year, we had more family than ever at my parents' house in the Poconos. Lunch was light — we ate cheese, crackers, and dips, and drank spiked hot chocolate and mimosas, while some adults napped.
In the early evening, my uncle brought over king-crab legs. He always brings something on the luxurious side because he knows I like to eat it. Everyone expected me to boil the crab legs, but I insisted on roasting them with a Parmesan crust. This was a hit — the kitchen was crowded with everyone fighting over the crab legs before they even hit the table. Later on in the evening, we heated up leftovers, drank some bourbon, played Trivial Pursuit, and sang karaoke.
Tuesday, December 26
We packed up the car after eating some avocado toast with some fresh carrot juice. I made sure to take some leftover roasted-pork slices to crisp them up on the flattop once I got home.
Once we got back to New York, I was hungry and tired, but naturally, the babies still wanted to play. My wife and I had a craving for some NYC pizza, so we picked some up from our spot, Mama's on 106th and Amsterdam. We got a large pie, Caesar salad, and some wings, and drank coconut water to get hydrated for the week.
I made it down to Chefs Club later that day to prep for service. Malcolm Livingston came by to chat and show me the dessert he's working on that will run as a special during the last few days of my Chefs Club residency. He made an incredible rosé parfait with buckwheat and apricot kernels. It's incredible how Malcolm brought my culinary vision to life in this dessert — and it's super exciting to team up with one of the most talented pastry chefs to close out the last week of my residency.