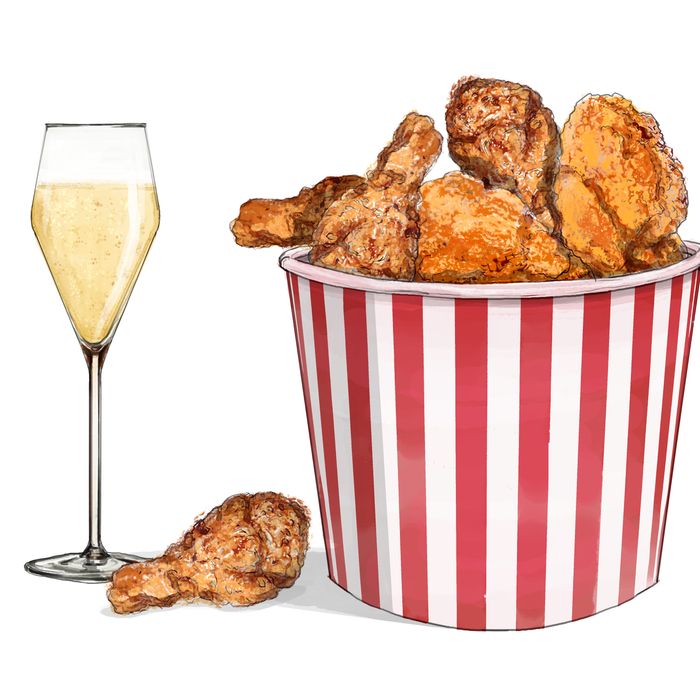 Grab a bottle and a bucket.
Illustration: The Ellaphant In The Room
There is no bad time to drink Champagne, of course. It just so happens that New Year's Eve is a particularly good time to do it. This is a universal truth that needs no undoing. The only question becomes: What do you want to eat with it? This year, that answer should be a big bucket of fried chicken. In fact, there may be no better marriage on earth than the one that exists between fried chicken and Champagne, the ultimate symbiosis of grease and acid.
When Champagnes are made, they go through a process called autolysis, during which the wine spends time in contact with the lees. The French phrase is sur lie, which is a beautiful way of saying the wine was aged on the dead yeast that's leftover after fermentation ends. The liquid in each bottle eventually takes on the flavors of that yeast — which is to say, the bready, toasty, briochey notes that come through when you smell and taste good Champagne.
Those bread flavors just so happen to align perfectly with the crunchy, golden goodness of nicely fried chicken. In fact, as a Kentucky native, I'd go so far as to say that the Colonel's Original Recipe is the chicken you want to try. The spice blend is packed with savory, umami-driven pleasures, Champagne's natural acidity plays very well with chicken grease, and the wine's bubbles amplify the crunchy effects of the skin and coating.
As for which Champagne to get, look for Brut Multi-Vintage (Brut meaning dry, and Multi-Vintage meaning a blend of grapes from different years). This is the style every Champagne house hangs their hat on, and because it makes up a majority of their production, it's easy to find. They're designed to taste the same year after year, so you can always expect a consistent bottle.
Alas, they're also consistently expensive. Luckily, there are some non-Champagne sparkling options that work well, too — just know that not all sparkling wine is the same. You'll want to look for wines that have been made in the Méthode Traditionelle, which is the same technique used to produce Champagne, minus the famous region. It's a process of fermenting wine in the very same bottle that you drink it from, which is crucially important to getting that bright acidity, bready character and mineral finish that make Champagne so distinctive. (Prosecco, for example, is fermented through a different method, and produces an entirely different style of bubbly.)
There are plenty of wineries in California, New York, and other regions of France, Spain, Italy, and more producing wonderful sparkling wines using the Traditional Method. How the bubbles were made is rarely stated on the label, so do your due diligence before you get your fingers greasy.
Here are three options that will work perfectly:
Laetitia Vineyards Arroyo Grande Valley Cuvée Brut NV ($28)
A quality Traditional Method option from a strong producer in Southern California.
Drappier Carte d'Or Brut NV ($44)
A style that is mostly Pinot Noir — and which won't break the bank — from an interesting producer in the southern part of Champagne.
Pierre Péters Cuvée de Réserve ($60)
This option is 100 percent Chardonnay. Wine-speak alert: It's full of bright mineral structure and sharp fruit tones.