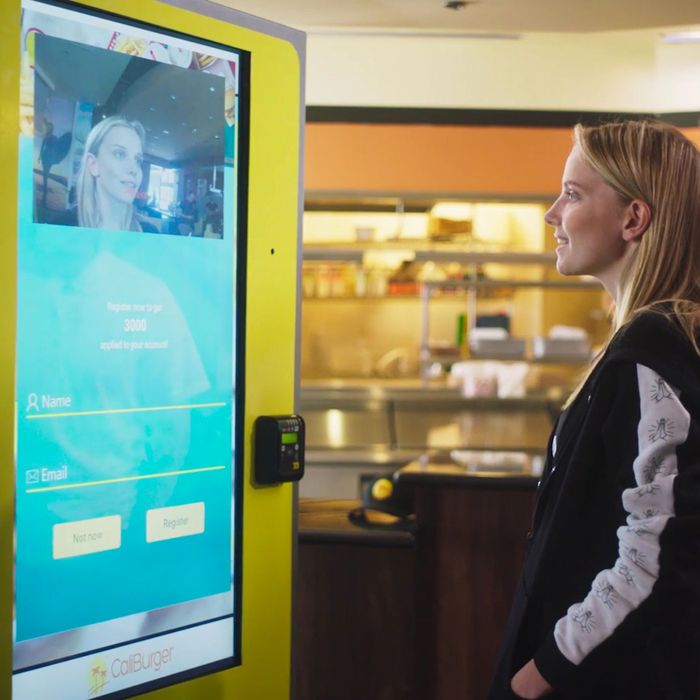 A woman effortlessly getting her excessively customized burger.
Hope you're ready for commitment because fast-food-ordering just got way more intimate. CaliBurger — the better-burger chain that created Flippy, the robot that, true to its name, flips burgers in the kitchen — has created the country's first point-of-sale kiosk that uses facial recognition. The machine resembles the ones you see at McDonald's and a bunch of other chains now, only CaliBurger's is effectively hands-free: It uses a fancy bit of software called NeoFace, developed by Japanese tech company NEC, to automatically load customers' accounts once they enter the sensor's field. The system keeps your face on file; let it eye you real good first, and your order's theoretically a breeze.
According to the company, it's the next logical step in restaurant touch points. Amazon already lets you do one-click orders, and the iPhone X opens at a literal glance, so why shouldn't America's tech-savviest burger company allow you to reorder your favorite cheeseburger (the complicated one you always eighty-six the lettuce and tomato from, then add six sides of barbecue sauce to) merely by staring at a screen.
The feature is in a pilot phase at CaliBurger's Pasadena store, for now. But it's eager to make facial recognition the companywide ordering system, adding that plans are already in place to expand the technology worldwide next year. (That'd mean 13 more countries.) Also in 2018, CaliBurger expects to evolve the platform so that face-based payments replace credit cards.
Until a pay-by-face feature gets enabled, though, the biggest plus is instantly populating your order history on the screen. This video CaliBurger made shows how it helps complete your transaction "in a matter of seconds":
CEO John Miller says that this gives guests "a customized, one-on-one interactive experience," which is apparently what people living in the year 2017 demand, even from their burger-maker. If you'd like to wager on which restaurant chain will be America's first run entirely by bots, from the C-suite on down, CaliBurger looks like money: Beyond cashierless kiosks and kitchens full of Flippys, the chain also aims to have robots "monitor" its dining areas soon, add "social gaming" as a form of eat-in entertainment, and move into autonomous-vehicle food deliveries.