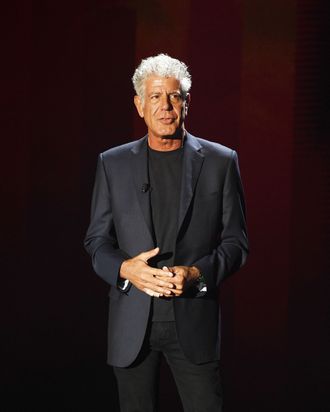 Photo: Dimitrios Kambouris/Getty Images
Way back in January of 2014, the New York Post announced that Anthony Bourdain was opening an ambitious New York food hall, featuring a diverse group of international vendors. Great idea, right? There was no location yet, but Bourdain's real-estate broker confidently said, "We are talking to every big developer in the city, and everybody wants them."
One year later, the location still hadn't been released — details, Eater reported, were "tightly under wraps" — but The Wall Street Journal got a scoop! Bourdain creatively decided to name it "Bourdain Market," and apparently, it was going to open in 2015.
In September of 2015, Bourdain revealed to the Times that it would actually open in 2017 — but, hey, at least he now had a place to put it! A 155,000-square-foot space at Pier 57 on 15th Street, where he could host 100 vendors — including, he promised, two stalls from April Bloomfield and Ken Friedman.
Ah, but in 2016, Bourdain confessed to Vogue that he still didn't have a lease — and oh, yeah, hadn't figured out the massive housing and visa concerns. "We're on it, man," he said. The opening got pushed back to 2019. Meanwhile, the official Bourdain Market Instagram account detailed scouting for dishes.
This year, Grub interviewed one of Bourdain Market's first vendors, Australian fifth-generation meat packer Anthony Puharich. He said he was confident the plan would come together, but admitted, "Tony does keep things close to his chest." Then CEO Stephen Werther stepped down. Construction paused on Pier 57 after a worker suffered a grave injury. It became clear that Bourdain had never even signed a lease.
So does it really come as a surprise that now Bourdain has officially called the project off? He quietly announced — on the Friday before a holiday weekend — that launching Bourdain Market is "challenging" and "the stars may not align at Pier 57." He remains "hopeful" he can find a new home for it. There's no trace of the news on his Twitter feed — just a paper trail of magazine profiles and promises made to small vendors around the world.