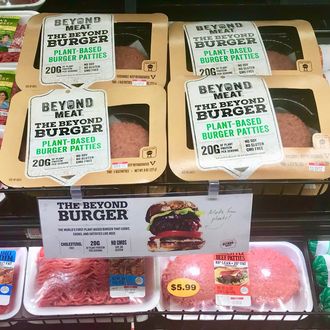 Time to make even more room for the veggie burger that "bleeds."
Photo: Beyond Meat
Burger disrupter Beyond Meat says it's raised another $55 million in funding — enough to triple the production capacity of its "bleeding" meat alternative that's seemingly already everywhere.
Beyond and rival Impossible Foods both continue to see phenomenal amounts of success in a market where the previous best option was the frozen black-bean thing made by MorningStar. In just two years, Beyond has welcomed McDonald's former CEO to its board, recruited Leonardo DiCaprio as a brand "advocate," and collected more than $90 million worth of venture capital from a star-studded investor set that includes Bill Gates and Twitter's Biz Stone and Evan Williams. Tyson Foods bought a 5 percent stake last year, calling the burger a "game-changing product."
This corner of the burger industry is now in an all-out arms race. Beyond has its version in more than 5,000 supermarkets nationwide (from Whole Foods to Kroger and Albertsons), and it's colonized menus at chains like BurgerFi and TGI Fridays. Impossible's, meanwhile, can now be found at Bareburger and university cafeterias, and the company announced in March that it's broken ground on a massive new factory in Oakland that can crank out roughly 50 million burgers a year.
Probably don't bet on this momentum stalling anytime soon, either. With Beyond and Impossible both scaling up production, one of two is poised to get the Holy Grail: a contract with a major fast-food burger chain — maybe ending up in a new menu section alongside a Hampton Creek cultured-meat patty. The surest sign that the future's bright, though, is how identical this fake meat is to the meat industry's real stuff. Beyond's CEO Ethan Brown has said before that he toured the Jimmy Dean sausage factory and found the similarities "eye-opening." "It could have easily been our fat and our protein moving through that system," he claims, "with little distinction that a consumer would see."