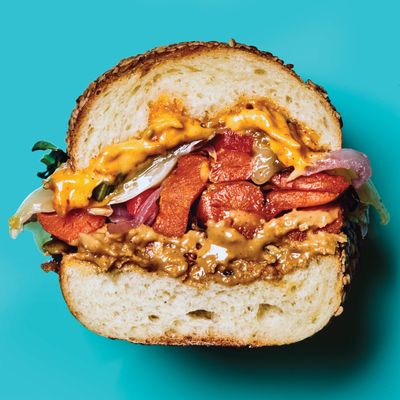 BYGGYZ's Karrottom is the sandwich of the year.
Photo: Bobby Doherty/New York Magazine
We're taking a break from our semi-regular ranking of the best new dishes of the moment to bring you this scrupulously researched, thoroughly vetted list of the top ten sandwiches of 2017. The already-great sandwich landscape has been improved this year by the between-the-bread exploits of aficionados like Danny (Fine Casual) Meyer and David (the Colonel) Chang, and while no one will ever be able to fill the soulful focaccia loaves of Williamsburg's Saltie, to which we bid a teary-eyed adieu, our No. 1 pick shares more than a bit of its iconoclastic, grass-roots, veggie-forward spirit.
1. The Karrottom at BYGGYZ
37-39 Clinton St., nr. Stanton St.; 212-475-0040
It all began, as these sandwich-genius brainstorming sessions often do, with a provocative question: What if you made a PB&J (with the ne plus ultra of peanut butters, Koeze), but swapped out the jelly for sweet roasted carrots? And what if you threw in some arugula, wilted red onion, roasted red pepper, harissa mayo, Fontina cheese, toasted pepitas, sweet-and-sour pickles, and a toasted semolina roll? That might sound like something that came out of a cooking-show mystery-box challenge or an epic weed-smoking binge, but what can we say? Flavors meld, textures unite, Fontina and peanut butter actually go together. In short, this sandwich sings. And so for unbridled originality and derring-do, plus the fact that it's freaking delicious, the Karrottom takes home the coveted Underground Gourmet Digest Best New Sandwich Award this year.
2. Roast Beef, Gravy & Horseradish at Hendu's Sandwich Shop
27-24 Jackson Ave., Long Island City; 718-383-2724
Hot roast beef shaved thin, doused in veal-stock gravy, blitzed with fresh horseradish, and piled into a garlic-buttered sesame-­seed hero roll that gets oven-toasted until it's about as crunchy as a Stella D'oro breadstick. Swanky bonus points for the location: inside the lovely Long Island City cocktail den Dutch Kills.
3. French Dip at 4 Charles Prime Rib
4 Charles St., nr. Greenwich Ave.; 212-561-5992
Old Underground Gourmet adage: Where there is serious prime rib, there tend to be sumptuous trimmings. At this subterranean West Village beef speakeasy (beefeasy?), the paper-thin slices make their way into an off-menu French dip that is drenched in jus, topped with Swiss cheese, tucked into a Parisi Bakery roll, and compared to the rest of the menu, a downright deal.
4. Meatball Sub at Martina
198 E. 11th St., nr. Third Ave.; 646-747-6635 
Another U.G. adage: Where there is great pizza, there are often great meatballs. And so it is at Martina, where the regular menu's chicken polpette gives a matinee performance at lunch co-starring fresh mozzarella and sharp Pecorino, tangy tomato sauce, Sicilian oregano, and a Grandaisy sesame-seed roll. The construction is sound, the balance harmonious, and the ball-to-bun ratio spot-on.
5. Scrambled Egg Sandwich at Du's Donuts
111 N. 12th St., at Wythe Ave., Williamsburg; 718-215-8770
Wylie Dufresne's stupendously sleek and portable take on the breakfast sandwich is a combination of grilled cheese, bodega BEC, and something an astronaut could eat in outer space without a bib.
6. Pork Cheek Sandwich at Caffe Marchio
30 E. 30th St., nr. Madison Ave.; no phone
Chunky bits of braised cheek meat along with grana, arugula, and marinated tomatoes on a soft-crumbed, housemade roll designed to soak up the meat's lavish juices. A tip: If Val's working the counter, ask her to make it a Val's Special, and she'll toss on thinly sliced red onion and douse the succulent thing with the chile oil they use on pizzas at sister restaurant, Marta, down the hall.
7. Patty Melt at Daily Provisions
103 E. 19th St., nr. Park Ave. S.; 212-243-4020 
Custom-tailored, house-baked "patty-melt rye" is only one advantage this sturdy specimen at Union Square Cafe's takeout-shop annex has over other contenders. There's also the just-funky-enough dry-aged Pat LaFrieda beef patty, onions griddled to the perfect shade of golden brown, and a molten ooze of American processed and Narragansett Creamery's Crescendo cheeses.
8. Chicken Dip at Fuku Wall Street
110 Wall St., entrance on Front St.; eatfuku.com
A sort of Hainanese chicken-rice plate translated into a Hot Bread Kitchen bing-bread sandwich that is juicy, pickly, crunchy, and spicy in equally mouthwatering measure.
9. Pork Cutlet Sandwich at De Maria
19 Kenmare St., nr. Elizabeth St.; 212-966-3058
We're not sure what this tasty little artery-clogger (crispy, panko-crusted pork cutlet, cabbage, mayo, and tonkatsu sauce on toasted pain de mie) is doing here among the housemade tahini yogurt, chile-turmeric mushroom broth, and chia pudding, but we'll take it.
10. Spicy Cheesesteak at Ando
31 W. 14th St., nr. Sixth Ave.; 855-444-4989
Dave Chang's latest heretical take on the iconic grease bomb involves Sichuan spices and his proprietary Momofuku fermented-chickpea paste whipped into a Cheez Whiz–like lather, and on paper, would make any proud Philadelphian's blood boil. But the meat is chopped well, the onions sweated mercilessly, and the flavors melded beautifully.
*A version of this article appears in the January 8, 2018, issue of New York Magazine.