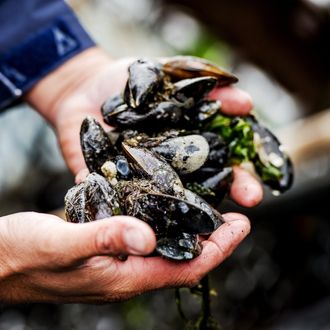 Now comes in extra chewy.
Photo: Robin Van Lonkhuijsen/AFP/Getty Images
Congratulations, earthlings: We've polluted the planet's waters so thoroughly that now even super-remote Arctic mussels subsist on a microplastic-laden diet. The sea up there, which most scientists still consider ecologically "pristine," is apparently teeming with more than its fair share of the ocean's estimated 165 million tons of microscopic synthetic debris. In a new paper studying water pollution, the Norwegian Environment Agency had scientists test every Nordic's favorite bivalve, and mussels from the Arctic's Barents Sea ended up containing more bits of degraded plastic than ones tested anywhere else, including in the commercial waterway outside Oslo. It's a somewhat puzzling development, but researchers tell Reuters that ocean currents and Atlantic winds are likely washing them so far north, where the particles then settle on the seabed — mollusks' home for their entire sedentary lives.
Previous tests have found microplastics floating off China, South America, Europe, and America's Pacific Northwest. The Arctic mussels in this study averaged 4.3 bits of plastic pollutants each; off the country's coastline, that number dropped to 1.8. The authors add that this really shouldn't be that surprising, since microplastics have been found in mussels "everywhere scientists have looked," but that doesn't meant they're happy about it. "Ten years ago, we had to stop eating seagull eggs due to critical high levels of dioxin. This year, we got a ban on large-size halibut as human food," one team member tells the Independent Barents Observer. "Now, mussels are in danger of being added to the list."