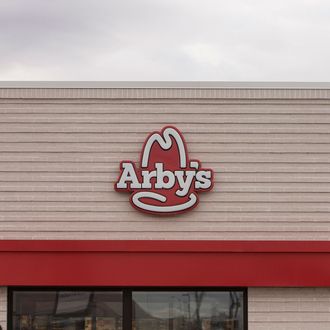 About to get some more friends.
Photo: Chad Hurst/Getty Images
Call Buffalo Wild Wings Arby's $2.9 billion appetizer. Last week, word dropped that it was acquiring the 1,200-location wings chain, but now Axios warns that this was merely step one of "much greater acquisition plans." Parent company Roark Capital is reportedly amassing $2 billion that it can fling at impressionable restaurant brands. Once the shopping frenzy ends, Roark hopes to roll all of them into a new fast-food megacompany, and take it public.
Axios business editor Dan Primack says he got a look at the "confidential document" laying out Roark's master plan, and that it makes it clear that the private-equity company is targeting "turnaround targets in the quick-serve, fast casual and casual dining markets" that are willing to be bought out:
Axios has obtained a confidential pitch-deck for this fund, which shows the entire investment strategy is to purchase additional restaurant chains that would be added to the Arby's platform, with targets having annual EBITDA of between $50 million and $300 million.
(EBITDA means "earnings before interest, taxes, depreciation, and amortization," and it's a popular way for investors to measure a company's profitability.)
It's worth noting that Arby's was struggling until Roark bought it from Wendy's six years ago — it went from Jon Stewart's favorite punch line to a "meats"-having colossus whose sales hit $3.7 billion last year. Roark also controls a small army of other big fast-food players (Jimmy John's, Carl's Jr. and Hardee's, Corner Bakery, Carvel, Cinnabon, Moe's Southwest Grill, Auntie Anne's). No doubt it thinks this fast-food prowess will help sell investors on the new giant restaurant group, which according to Axios will have the extremely hokey name of Inspiring Restaurant Brands.