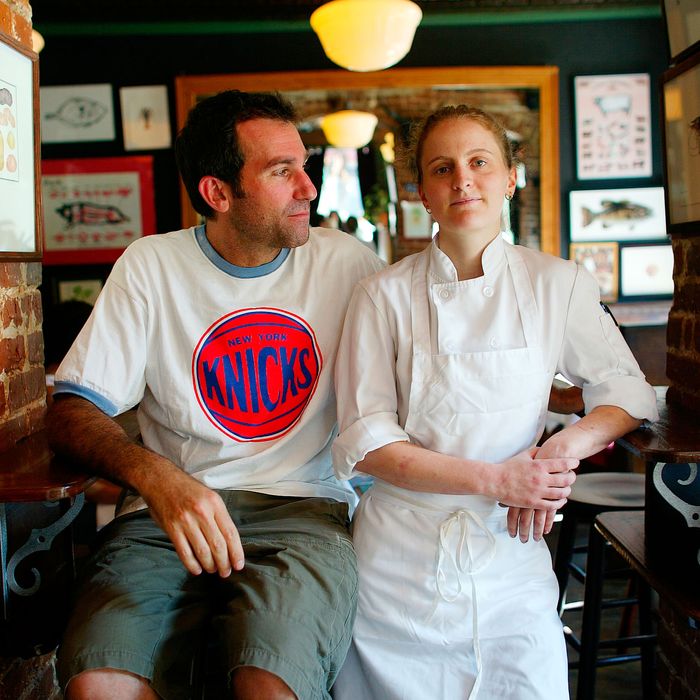 Friedman and Bloomfield at the Spotted Pig.
Photo: David Howells/Corbis
In a detailed, harrowing New York Times report, ten women accused restaurateur Ken Friedman of sexual harassment. Among other things, the allegations included groping, texting employees for nude photos or group sex, demanding sex, and condoning his friends' (including investor Mario Batali, who has been accused of harassment himself — and has denied nothing) sexual harassment. Much of the report centered around the Spotted Pig, the first in a series of successful restaurants that Friedman opened with chef April Bloomfield and one where employees reportedly nicknamed the private third-floor space "the rape room." Bloomfield has not escaped scrutiny following the report.
In the article, employees say they would turn to her for help, but as former server Trish Nelson told the Times, "her response was always the same … 'That's who he is. Get used to it. Or go work for someone else.'" Bloomfield responded to the paper with her own statement, saying she immediately referred both incidents of "uninvited approaches" to outside labor counsel and spoke to Ken about boundaries, but apologized for having "let down our employees." Bloomfield also said, "My energies are directed to the kitchen, food preparation, and menu development." Her initial statement and characterization by former employees has been widely seen as inadequate by commentators and members of the industry. In response to the article and fallout, Bloomfield has released a second statement. In it, she says that "I fell short, and I am filled with anger" for her staff's humiliating and degrading treatment. She goes on to write, "I would never suggest anyone accept unprofessional treatment" and claims to have "lectured" Friedman, but also claims that she is only now "learning the extent of the events." As with her initial comments, the response has been divisive, with many responding that her apology has been inadequate.
Bloomfield does not name Friedman in the apology, and part of the message is cryptic. As Times critic Pete Wells pointed out, it's not entirely clear what Bloomfield means by "it is over." Earlier this week, Grub reached out to Friedman and Bloomfield's representatives, BeccaPR, to ask if Friedman would remain an owner of the restaurants. The firm says that it has "decided to part ways with the restaurant group," and that it "forwarded the note to the appropriate people."