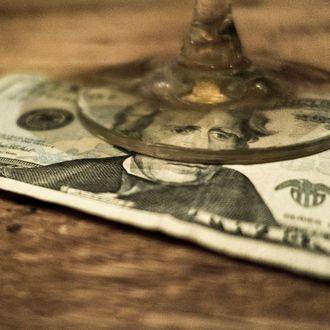 Ha-a-a-llelujah!
Photo: Thomas Winz/Getty Images
If anyone's worthy of a good present, it's restaurant servers on Christmas Eve. Luckily, some generous Americans remembered to spread the holiday cheer — including pro NFL player Sealver Siliga and an Ohio church congregation.
Siliga, the Tampa Bay Bucs' defensive tackle, ate dinner at and Applebee's, and when the check came around 10:30 p.m. — for $256.93, already an impressive amount for just your Neighborhood Bar & Grill — Siliga asked how many employees were still working at the restaurant. The manager told him ten, so he tipped $1,000, ensuring them a $100 each. Staff tell ESPN he made sure to think of "the cooks in the back" and "the dishwasher too." He also didn't say a word on social media about what he'd done; TMZ let the cat out of the bag.
Over in Ohio, meanwhile, a church group presented a $3,577 tip they'd spent the past month collecting to workers at an area Waffle House. Pastor Mick Whistler had asked everyone at Celina's Grand Lake United Methodist to chip in a dollar every Sunday for the month of December, and the church took what Whistler called "the biggest tip I'm sure they have ever received in their life" up to the group working Waffle House's Christmas Eve overnight shift.
The five women pocketed about $700 apiece, and were clearly overwhelmed — a response you get to watch firsthand because the church filmed it: