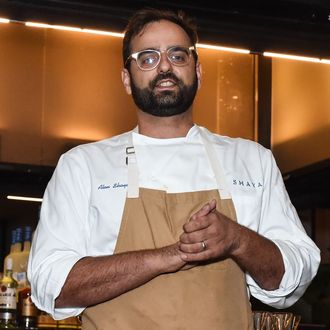 Chef Shaya, during his BRG days.
Photo: Daniel Zuchnik/Getty Images for NYCWFF
The fallout continues at disgraced chef John Besh's restaurant group. Alon Shaya, formerly the company's biggest not–John Besh star, has "abandoned his efforts" to purchase Shaya — the hot Israeli restaurant in New Orleans that carries his name — from Besh Restaurant Group, and decided to file a trademark lawsuit against them instead.
Or rather, a countersuit: Shaya and BRG split in September after the company fired him — in the midst of the Times-Picayune reporting on sexual-harassment charges against Besh (when the story came out, it was revealed that Shaya had spoken on the record against the restaurateur). Shaya (the chef) sent a cease-and-desist demanding that Shaya (the restaurant) stop using his name, and this is when BRG's legal team stepped in and filed their initial lawsuit — a motion that tried barring him from using the word Shaya at any subsequent restaurants he might open.
The Times-Picayune explains that Shaya's relationship with BRG had been "deteriorating for some time," long enough for Shaya to open talks about buying out BRG and running the restaurant solo. His countersuit is evidence that those talks, now in the works for over a year, have hit an impasse. "I'm profoundly disappointed that we have come to this," Shaya tells the paper, noting that he's "now forced to fight in court for the rights to my own name."
Shaya claims that he established the "Shaya" name and brand long before opening the eponymous restaurant with Besh, and that he, a James Beard Award winner, ran the restaurant, also a James Beard Award winner, plus two others under the BRG umbrella — Domenica and Pizza Domenica — with "little, if any input" from the company. The lawsuit argues that all of the different Shayas, from the restaurant to his personal brand and own name, have "become irreparably tarnished by association with the widely reported immoral, unethical, and undignified behavior" at BRG, and that he "simply wants his name disconnected with these 'toxic' parties."
In response, BRG's newly installed CEO Shannon White says they've made multiple offers to sell him the restaurant "for a price much lower than market value," but he's rejected them all. "While it is unfortunate that Alon would attempt to leverage the [Time-Picayune's] story, rather than simply pay a fair price for the restaurant," she adds, his lawsuit leaves them "with no choice" but to fight him in court filings, which she promises "will be forthcoming."