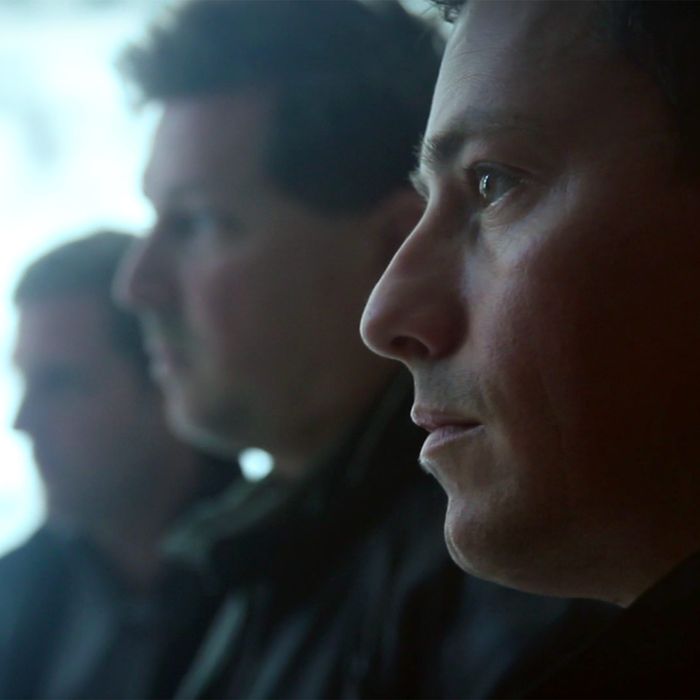 Curtis Duffy, with Michael Muser is the background.
Photo: FilmBuff
However you might feel about the Michelin Guide, it's still hugely influential, and chefs don't just walk away from restaurants worthy of three stars. There are only 14 restaurants in the entire country that fall into that category, the guide's highest designation, and one of them is the Chicago tasting-menu restaurant Grace. Or, was. Yesterday, the New York Times reported that chef Curtis Duffy and general manager Michael Muser quit after a dispute with majority owner Michael Olszweski, and following that news, reporter Kim Severson tweeted that Grace closed and 40 people were laid off last night.
The Times initially reported that Duffy left on December 1 and Muser on December 18, but Muser was actually fired December 1 and Duffy left earlier this week. Eater Chicago reports that kitchen staff walked out on Tuesday and that reservations were canceled the day of, while the Times updated its story to add that after its story was published some staff arrived to find out they were no longer employed. Duffy and Muser were synonymous with the fine-dining restaurant, but didn't have any ownership stake. They reportedly had a contract dispute with owner Michael Olszewski, the real-estate investor who was the money behind it. Journalist Kevin Pang tells the Times that Duffy and Muser had tried but ultimately failed to buy the restaurant, saying, "My sense was until they were their own bosses, they were stuck idling in neutral." Through a spokesperson, Duffy and Muser confirmed that they explored buying the restaurant and that they felt it hampered their vision for the business. In a statement to the Chicago Sun-Times, Olszweski says that he will open a new restaurant in the space.
Grace and its chef were the subject of a documentary made by Pang, For Grace, which offered a look at Grace's opening in 2012 and Duffy's difficult childhood, during which his father killed himself and his mother in a murder-suicide. It does not sound like it's over for Duffy and Muser as a pair, though. In a statement provided to the Times, the two said that "as this chapter ends, another begins," and that they would be spending time with their families as they work on their "next project."
This post has been updated with more information about the restaurant's closing.