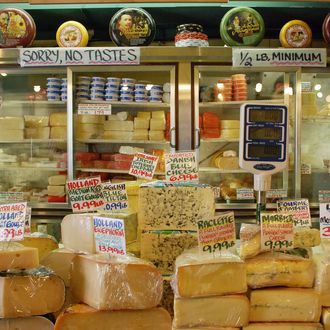 The interior, pre–rot and mold.
Photo: Corinne Durand
Two weeks ago, New York's East Village lost another neighborhood institution, a decades-old no-nonsense cheese shop simply known as East Village Cheese. Easily forgotten by Lower Manhattanites who have Murray's and Saxelby Cheesemongers, among others, in the area, the spot still had about a hundred varieties, everything from aged Gouda and Finnish Lappi to exotic cheeses kept in a large refrigerated case.
All of which the owners apparently left right where they were when the place was abruptly shuttered. Per neighborhood blog EV Grieve:
The shop was last seen open on Dec. 7. And the gate has been down ever since, without any notice indicating a temporary or permanent closure. The telephone has been disconnected … and worse, the power has been shut off inside the shop these past two weeks, neighbors say.
This pic was taken one week ago by a passerby, who even then worried that the store was getting a bit ripe:
EV Grieve notes that the bread and cheese shown in his photo are "still there." The owner of East Village Hats next door, Julia Knox, tells the blog that they're well into the "gross" phase by now, and that the stench is overtaking their block — East 7th Street, between First and Second Avenues. "The smell of cheese is seeping into my hat shop, and I am looking for ideas for how to get the place emptied before it rots," she says. "My biggest concern is that the smell is going to be unbearable pretty soon, and a potential rat problem."
According to reports, the landlord is aware of the situation, but "legal concerns" have thus far kept anyone from entering the store. Sounds like a New York Catch-22 for the ages: Which threat is greater — tenant laws, or a putrefying rats' nest?