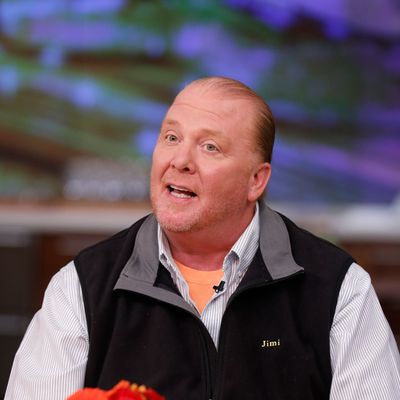 More women spoke about sexual harassment by the chef.
Photo: Heidi Gutman/ABC via Getty Images
One day after Eater reported four women's allegations of sexual harassment by Mario Batali, more have come forward with accusations against the celebrity chef. Batali also appeared in a detailed, explosive report by the New York Times about sexual harassment and abuse by restaurateur Ken Friedman, and was the subject of a Washington Post story about his abusive behavior. And earlier today, actress Siobhan Thompson became the first on-the-record accuser of Batali's, saying that he groped her while she was a hostess at Del Posto.
The chef is an investor in Friedman and April Bloomfield's Spotted Pig, and employees tell the Times that they frequently witnessed or experienced aggressive sexual behavior by Batali. According to the employees that the Times spoke with, Friedman was aware. Both he and Batali have stepped away from the day-to-day operations of their restaurants, and both remain owners.
One former manager, Jamie Seet, says in 2008 she intervened when she saw Batali grope and kiss what appeared to be an unconscious woman on a security-camera feed. A former server, Trish Nelson, tells the paper that they referred to him as "the Red Menace," and that he tried to touch her breasts, commented on them, and wanted to wrestle, and once told her to sit on his friend's face. Batali apologized in the Post, but did not refute the details.
The Post documented another incident that occurred at the Spotted Pig in 2004. A server says that Batali requested cigarettes, and when she brought them to him, he smiled at her and appeared to deliberately drop them. The server bent over to pick them up and alleges to the Post that Batali "grabbed my underwear" and "pulled straight up." When she told Friedman that "Mario's sexually harassing me," she says that he responded with "get in fucking line."
The Post also documented a March 2010 incident that occurred at Batali and Nancy Silverton's Los Angeles restaurant Osteria Mozza. Batali was attending a "Magic, Martinis, and Mario" party hosted by Vanity Fair publisher Edward Menicheschi. During that party, Mozza's special-events director Holly Gunderson says Batali showed up visibly intoxicated, and that he "looked me up and down and he said, you know, with a twinkle in his eye, 'I want to see you naked in my hot tub back in the hotel.'" Others, she says, witnessed this. When he found her leaning over a high-top table later that night, she alleges that he assaulted her by grabbing her crotch. She tells the Post that he put his hand between her legs, so his hand touched the part of her clothes where her vagina is. He then continued walking, and she says it appeared no one else noticed.
Gunderson says she was "not aware" of an HR department, and left the job a few weeks later for a better one. A spokesperson for Batali's restaurant group, B&B, tells the Post that there was an HR director, and that they had "a strong sexual harassment policy" in place then.
Vanity Fair's associated director of integrated marketing, Melanie Altarescu, was also harassed by Batali when she was asked to escort him to a car. She tells the Post that, at one point, Batali told her, "You're gonna get in the car, and we're gonna make out." She refused, and he grabbed her sleeve and told her, "You're making a big mistake. You should get in the car and we should make out." Altarescu broke away — her story was confirmed by a supervisor — and described his behavior as "super leery," and that "it was not like a joke."