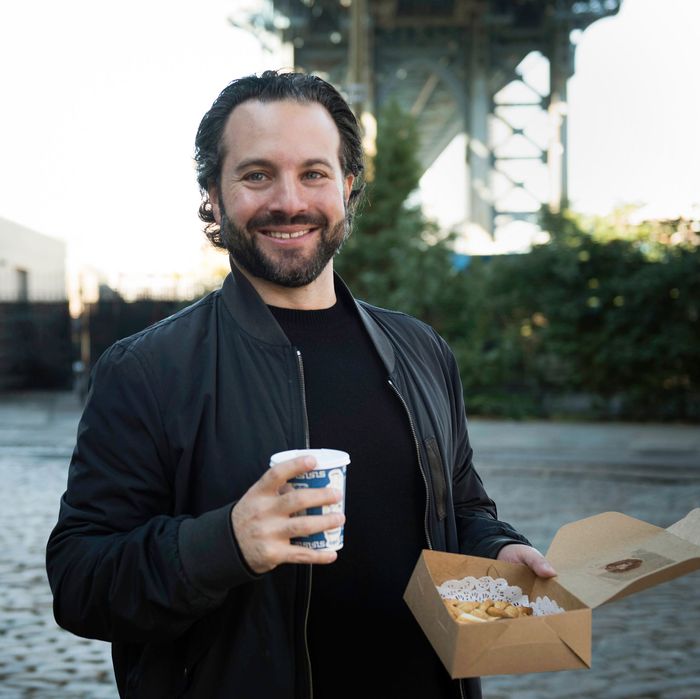 With his haul from Burrow.
Photo: Liz Clayman
James Beard winner Howie Kahn often covers food — he's a contributing editor for WSJ. magazine — but this week he spent most of his time thinking about shoes. Specifically, Sneakers, the new book he co-authored with Rodrigo Corral and Alex French. When he wasn't promoting it, Kahn celebrated by dining at the Grill, feasting at the NoMad's Halloween bash, and revisiting Raoul's. There was also quite a bit of time at home, making morning pancakes with his son. Read all about it, straight ahead.
Thursday, October 26
We didn't get our last bites at the Grill. They didn't come. So, I go to find them. I'm with Nadine Redzepi, and the Grill was her idea. Technically, we walked into the restaurant on the 25th, but I'm counting it here because we stop eating after midnight with petits fours I procure myself from a pastry chef.
The pastry kitchen is on show tonight, out in the open, like a country-club buffet, cranking out desserts behind an ornate display of seasonal squash. Show is the restaurant's bedrock. There's always something captivating to look at: the Richard Lippold sculpture hanging above the bar like a cluster of modernist stalactites; the man dining in a tank top, whose arms seem to be challenging the prime rib for the meatiest-thing-in-the-room award; the woman sitting not far from him, perhaps concealing a house-arrest ankle bracelet with a feathery cuff.
The walls must be 30 feet high. They're mahogany-toned and have always made me think they'd make for excellent paneling in a mid-century mausoleum, which is a unique kind of beauty to flash in a restaurant. And a kind of nod to its history: Its old regulars would have happily died here. Its current clientele, however, is of a set that may believe they'll live forever. The whole place is statement upon statement, and it doesn't let up.
"Can one feel pummeled by luxury?" is not a question I'd ever asked before. And I haven't yet reached a conclusion. But the place is fascinating. I'd go back. And maybe next time they'll remember to bring the cookies at the end of the meal, and I won't have to ask the guy behind the giant pumpkin for my one last morsel of excess before exiting.
A few hours later, a little voice is shouting for pancakes.
Two years ago, the voice would have been the one in my head. But now, it's my son, who, at almost 21 months, believes fresh pancakes for breakfast every morning is a human right. My wife makes them most days, but I didn't sleep much — too fizzy from too much Champagne — so I hop to and start the batch. My son eats three. I eat two. Then, he starts shouting, "Coffee, coffee," because he likes to push the button on the machine to make it grind the beans. He presses it, looks at me proudly, and says, "Help out? Help out?"
Lunch is both an attempt to catch up with a friend and to see if he can do some press on Sneakers in an avant-garde-ish basketball magazine he helps put together. We try to go to Diner in Williamsburg, but Diner is closed for lunch, except on Fridays, so we go to Marlow & Sons instead. My editor friend has a special level of taste, really brilliant, so I'm pleased to hear that he likes the book. I eat a cumin-y hamburger with harissa and a lot of yogurt on the bun. There are no fries, which is what I wanted at Diner in the first place, but the super-peppery salad greens are a nice surprise.
With my wife at a work event and my son asleep, I start cooking dinner. I like a silent kitchen. The kitchen is where I enjoy solitude most. The hardest part for me about being married and being a father is sharing cooking space. I watch so many of my friends, brilliant and easygoing entertainers, share chopping duties with their kids and collaborate on mains and sides with their partners. I aspire to be like them. I don't want to be the kitchen asshole. I'm working on it. I really am.
I make the spaghetti with lemon from the new River Café cookbook. The dish has five ingredients: lemon, olive oil, Parmesan cheese, basil, and of course, the pasta. Simple, incredible, a go-to dish from here on forward. And there's plenty remaining for leftovers, which, for a parent with a young child, is like pit-stop fuel: energy during the race, an endurance race that goes and goes.
It helps when the fuel is extraordinary.
Friday, October 27
I'm out the door before our son is awake. My wife is on pancake duty. I have a call with a chef in Europe for an upcoming story and drink a latte while we FaceTime.
There's some writing to do, and when I write, I often forget to eat. Or, I feel like I can't stop to eat — or don't deserve to eat — because the thing creating the sentences is not actually me, but my momentum, and if I compromise the momentum, the whole story will fall flat.
Around 1:30, a friend from L.A. calls and tells me he's in my neighborhood shooting a commercial. With the call comes a sudden rush of hunger. We meet at Usagi, a multipurpose space in Dumbo with retail, an art gallery, really carefully made coffee, and delicious bento boxes for lunch. Mine has inari sushi, pickled vegetables, and a couple of nuggets of fried chicken. I look around the store and see that they sell books, too, but not mine.
We almost go to Celestine for dinner, but cancel at the last minute when our son spikes a fever. While debating what to eat instead, I have a bowl of the leftover lemon pasta (it may be even better cold) and decide that we'll do the dish we cook most when somebody in the house isn't feeling well and needs immediate healing.
A few years ago, Marco Canora and Tammy Walker did a book called A Good Food Day, and in it, there's a recipe for chicken thighs with onion, lemon, olives, garlic, and oregano that starts on the stove top, finishes in the oven, and has the ability to change lives and bust fevers.
My wife makes a cauliflower mash, while I make the chicken. We're in the kitchen at the same time. Progress.
Saturday, October 28
"Pancakes," says the king. He has three. I have two. Strawberries. We watch Elmo on TV, dressed up as Indiana Jones, questing after the perfect avocado to make magical guacamole.
Our son is on the move all day, a blur of a boy, and so life becomes grab-and-go. I stuff a banana in my mouth and drink a green juice I find in the fridge on our way to the park. From his stroller, I'm hearing, "Cheese, cheese, cheese," so I offer him the string variety (because I'm obviously carrying cheese). He rejects it. I'm happy to take on the calories and, also, a prosciutto-cotto sandwich I pick up inside VHH Foods.
Two parks, one bluegrass band, and a pumpkin patch later, we're home. Our kid naps. My wife goes to the gym. I eat more cold lemon pasta.
Oysters with rum, jalapeño, and cilantro. Scallop ceviche with lime and pistachio. Crab claws. Red snapper with avocado, cucumber, and red onion. Roasted chicken with foie gras, black truffle, and brioche. Suckling pig with sour oranges, cumin, and garlic. Fried plantains. Black beans. Saffron rice. Clams with chorizo. Lime-marinated mango. Salt-cod fritters. Steak on a stick. Pork sliders. Fried chicken. Cuban sandwiches. Empanadas. Three kinds of macarons. Coconut truffles. Tropical fruit tartlets. Flan!
That's the menu, or the majority of it, from the NoMad's annual Halloween party (this year, with a mid-century-Havana theme). Did I sample everything there? Yes. Did I sit in a corner eating Cuban sandwiches by myself at one point while music blared and people danced all around me? Mmm-hmmm. Did I eat as many plates of that famous roasted chicken as they'd give me? (Seven.) Absolutely. Did I drink an amount of Champagne that I could not track because they just kept pouring it and pouring it?
I cannot lie. I did that, too.
Sunday, October 29
Talking about more food after that is embarrassing.
Our son has the usual. He does not waver. Pancakes, strawberries.
I think it's maybe best that I skip a meal, but I end up at VHH Foods to get coffee and decide that breakfast tacos and bacon are also necessary.
Around 3, I finish what's left of the lemon pasta, the sustaining backbone of my diet. Thank you, River Café.
We get invited to a pizza party for dinner to celebrate a couple of milestones — somebody passed the bar exam; somebody else turned 1. My friends throwing the party own Williamsburg Pizza, so they put out an array of pies. There was also Carvel ice-cream cake shaped like a football.
Like I'm going to say no to that.
Monday, October 30
Our son has three pancakes. I have one. He yells "Coffee." We make coffee.
Blessedly, lunch is a meeting at Sweetgreen, and I'm happy to eat a big bowl of vegetables, thinking I'd better eat more of them if I don't want to die. I think about food as it relates to mortality all the time. I also think about it as it relates to pleasure. Those two things are hard to reconcile.
I meet my wife for a quick coffee because I'm near her office. She asks for one with oat milk, and I wonder if I should be adding oat milk to mine, too? Will oat milk add years to my life? Will oat milk be as delicious as cows' milk? My conflict perpetuates.
At 5, I eat a leftover pancake and head out the door to a book event at a Barnes & Noble. There, we sit on a panel with Sara Germano, the great Wall Street Journal reporter moderating, and we do some Q&A with the audience. After, they buy books. We sign them. The transaction feels dreamy, like a miracle, like somebody might wake me.
After the event, one of my co-authors, Alex French, and his parents, who came from Boston to watch our talk, invited me for dinner. I'm almost 40. I don't get the chance to eat with friends' parents very often, but I love it when it happens. Being a part of another family's dinner has always felt like a privilege to me.
Another thing that feels like a privilege? Eating at Raoul's on a Monday night. We sit down around 9. They are still turning tables at 11. Everyone seems to greet everyone else with kisses and lingering hugs. The music is loud and mostly R&B from the '70s. Monday night at 10 p.m. and the place is alive, libidinous. It's rare to feel undeniable sexual energy in a restaurant — and even rarer to see it unfolding all around you while dining with your friend's parents.
But here we are: drinking wine at sexy Raoul's, buttering crusty bread, eating steak au poivre, and watching dates and encounters, and a couple of guys who look like they are auditioning for the Burt Reynolds role in a reboot of Boogie Nights tell their table what appears to be the wildest, most entertaining story ever uttered on a weekday.
Tuesday, October 31
Pancake-making is the morning meditation. I have one. He has more.
I drink a liter of water to combat my salt hangover and eat a banana.
On the way to work, I stop for a coffee at Burrow, a bakery in Dumbo, and end up getting a roasted green-tea cookie, a chocolate-ganache cookie, and a slice of their Gâteau Basque, filled with cherry jam. Their pastries, and superlatives like this one don't come easy for me, are some of the best I've tasted in the world. They're also the reason I occasionally have a cookie-and-cake tasting menu for a meal. Will it kill me? For whatever reason, this is food that transcends all of my anxieties, and I'm certain that it won't.
We get our son back into his panda getup for Halloween and spend a few minutes at a party under the Manhattan Bridge. He spots Love & Dough, the pizza place adjacent to the party. "Pizza, pizza," he says. So, we order him a margherita, and we go home and end up eating it, too. For many a meal, his diet is our diet, really. After a couple of small slices, he asks for a pouch, one of those squeezy packets of organic mush. This one has kale, broccoli, and mango, and he swigs from it like a gentleman with a flask.
Hospitably, he passes it to me. "Try," he says, looking up from his high chair. "Daddy, try."
So I do. And it's delicious.
We split the rest, laughing and passing the pouch between us.