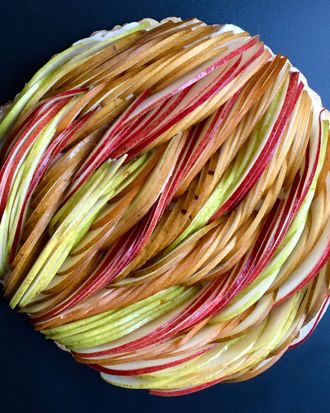 A tart of cinnamon-scented, wine-soaked pears.
Photo: Lauren Ko
For at least the last month, Lauren Ko has been forcing pies on her friends and family. Ko has a full-time administrative job in Seattle, but she is also the person behind @lokokitchen, a pie-only Instagram account that, until recently, counted a few hundred followers. Then, the site Design Milk posted a photo of one of Ko's creations. The October 29 shot, which shows thin, layered strips of dough overlapping and twisting around a small grouping of cherries, now has 71,000 likes, and Ko's account recently notched its 30,000th follower — which is why she's baking (and posting photos of) so many pies. "It is absolutely insane for somebody who is nobody," Ko says of the response.
Ko is just one baker who has tapped into the internet's never-ending hunger for beautiful, intricately designed food. But most Instagram food — gonzo milkshakes, rainbow bagels, unicorn whatevers — look like they would taste terrible. The beauty of these modernist pie designs is that they aren't about crazy colors or gimmicky garnishes; the best-looking pies are regular pies, made by bakers with serious skill.
"It's a trend like millennial pink — it was always around," says Yossy Arefi, a Brooklyn-based food photographer and author of a cookbook about fruit desserts. But now, "it's swept every aspect of people's lives." Arefi's speciality is rustic-but-pleasing designs she feels best maintain the crust's tastiness — "I'm partial to the fat lattice, for sure" — yet she nevertheless appreciates the public's desire to double-tap elaborate artistic efforts. "That kind of content on Instagram is really attractive and people really love it," she says.
For experienced bakers, it's also not particularly difficult to translate pie-making expertise to social media. "It's a beautiful overhead shot, and a really easy picture to take," says Kandis Smith, a baker at the Little Red Fox in Washington, D.C., whose creations include trees with textured trunks and dozens of almond-sized leaves. Smith has painstakingly worked at using a paring knife to cut out shapes and cursive lettering that bake nicely for custom pies, but she knows there are limits to what someone can do with traditional baking techniques. "I obviously can't put your mom's face in a pie crust," she says, though she did once pull off an anime-inspired dinosaur.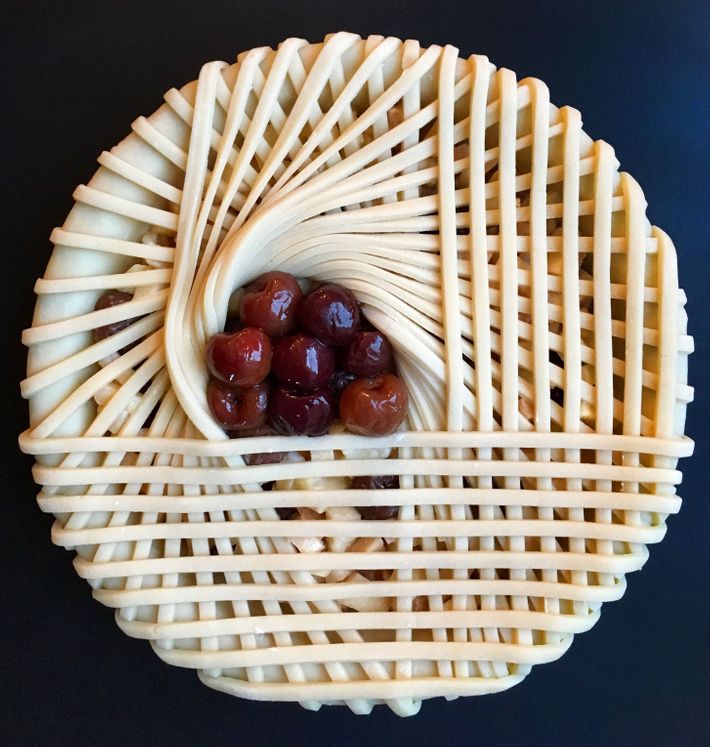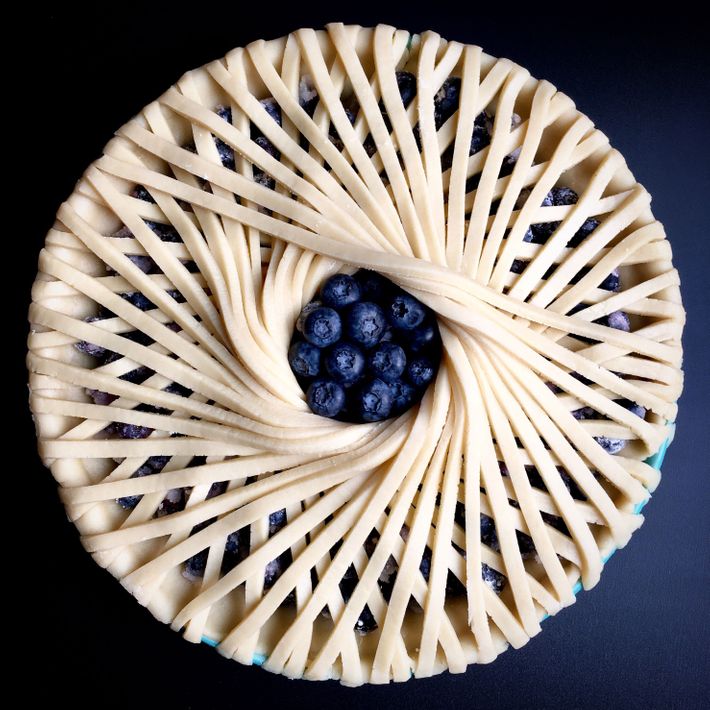 Emily Elsen, co-founder with her sister Melissa of Brooklyn's pie-famous Four & Twenty Blackbirds bakery, has watched elaborate pie design go mainstream with both pride and a raised eyebrow. "Fundamentally, we wanted to elevate pie," she says of the publication of their 2013 pie cookbook. When it came out, the recipes with pie-top cut-outs and braided crusts attracted a lot of the attention and, in many ways, it became a bridge between the pie decorations of yore and what now appears on everyone's feeds with increasing frequency.
Elsen notes that while they, of course, didn't invent pie design, they did their research to underscore how crucial aesthetics have been to pies' history. (Matthew Sartwell, of Manhattan specialty bookstore Kitchen Arts & Letters, agrees that the timeline of pie-decorating is a long one: "It's one of these things that's sort of been in plain sight. Anybody 35 years ago could have done a book" on pie design.)
While there may have been pie art 35 years ago, there was no #pieart. As it does with any trend or topic, Instagram lends immediacy to the phenomenon — something that business owners are also happy to try and capitalize on.
After years of selling baked goods wholesale, Carissa Waechter opened Carissa's in East Hampton this year. She says taste is her foremost concern, but Waechter does give great consideration to her baked goods' appearance. The final look of a blueberry pie with cornmeal crust was inspired by the contrasting colors and her preference for clean lines: She covered half with pie crust and left half exposed, then dusted opposite quarters with what she calls "donut sugar," giving a look of four different slices of pie. When I bought one this past summer, I admit that my main motivation was how it would look in a photo. I, apparently, wasn't alone, because lines have steadily grown, along with Waechter's social-media presence. "I post things and people will come in and ask for it," she says. For Thanksgiving, her Concord-grape pies are half-covered in thick lattice, while the other half is covered with circular cutouts that mimic a bunch of grapes.
Even Martha Stewart is getting in on the action. In September, she posted a pie with perfect circular cutouts and more than twenty small flowers, while noting in the caption that Germany-based baker Karin Pfeiff Boschek "has turned pie-crust-decorating into an art form." It has earned far more likes than anything else she has posted since then.
And now that followers can easily find pie art, they're more than happy to chime in on bakers' ideas. Michelle Lopez is the founder of the popular baking blog Hummingbird High. For an upcoming post, she thought the vivid color of a purple-sweet-potato pie was strong enough that she could leave a pie unadorned. But, as she tracked the project with Instagram Stories, followers questioned the use of purple potatoes. When she added a constellation of white whipped cream stars, "Immediately people were more receptive," she says. "The internet has opinions about everything."